London Road
Book and lyrics by Alecky Blythe, music and lyrics by Adam Cork
RNT Cottesloe Theatre
To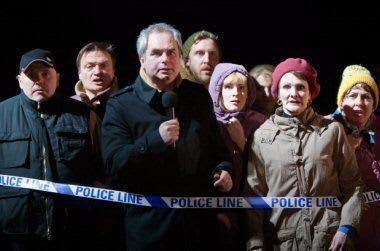 In December 2006 five women were found murdered in Ipswich. They were all prostitutes who had worked in the vicinity of London Road, a residential area to which they had transferred their activities following the redevelopment and the installation of CCTV cameras on their old territory. In February 2008 Steve Wright, 'the Suffolk Strangler', was found guilty of all five murders. That is the background to this musical play but it is not a detective story, a murder mystery or a study of working girls.
Playwright Alecky Blythe, founder of theatre company Recorded Delivery, has already created several verbatim plays based on recorded interviews that the actors perform by repeating the words as they are played back to them. This too is based on interviews she made with the residents of London Road and we get their actual words and the way they said them but, in this case, not repeated from what comes through an earpiece but given a musical setting, a setting that tries to stay true to the way they were originally spoken.
At times various composers from Britten to Janácek have said they were writing vocal lines that matched spoken speech, Adam Cork actually does it. His score has echoes of Anglican chant and modern minimalism, fugue-like patterns and rhythmic repetitions, sometimes seeming just spoken but still with variation in pitch and rhythms that are matched or supported by the instrumental element which adds much of the emotional impact. I found it a delight and it gives what might seem ordinary and banal an added dimension.
Blythe is not telling anyone's individual story, there is no dramatic line in the usual sense, though there is an intensely theatrical pattern that is emphasized by Rufus Norris's direction and Katrina Lindsay's design, greatly helped by Bruno Poet's lighting and Javier de Frutos as movement director. What Blythe sets out to do is to capture the reaction of and the effect on local residents of having these events and the media attention they attract on their doorstep.
She has chosen some wonderful characters, all remarkably open and honest. You can't help but like them and if you laugh at their foibles, you feel you are laughing at friends whether at a meeting of the Neighbourhood Watch, the presentation of prizes at the London Road in Bloom gardens competition, with the crowd waiting to see the accused arrive at court or hearing their voice in the coffee shop, the pub or their own front sitting room.
The humour gets a bit heavy-handed sending up a TV reporter having trouble with remembering names and trying to find a substitute for semen that is more suited to a lunchtime news bulletin, but you cannot help but warm to these people and their refreshing frankness as they object to their street being called a red light district, say people were wrong to suggest the killer's house be demolished, are happy a new family lives there and express pleasure that at least it got rid of the prostitutes.
The girls themselves don't get to give their case, but a long silent tableau gives us a poignant reminder of those out on the game.
London Road doesn't tell us a story of serial killings; it gives us the other side of the coin, a picture of the way a community to can come together, the warmth of neighbourliness. It is beautifully played by a cast of eleven: Nick Holder and Nicola Sloane as the chairman of the Neighbourhood Watch and his wife; Rosalie Craig and Duncan Wisbey as a couple who are retired teachers; Clare Burt and Hal Fowler as carer Jan and her husband; Howard Ward and Claire More as elderly line dancers; Paul Thornley as window-cleaner Dodg;, Michael Shaeffer, regular winner (with his partner Tony) of the garden competition, and Kate Fleetwood as Julie, events organiser who thinks up the competition, a particular delight in an outstanding cast - and they play 52 more roles between them, including police, reporters and TV technicians.
Perhaps some people will hate something so unusual but I love it; if you fancy a number about 15 hanging baskets, and having them choreographed, you'll like it too.
Reviewer: Howard Loxton