Long Distance Affair
Conceived by Ana Margineanu, developed with Tamilla Woodard, various playwrights
PopUp Theatrics
Summerhall
–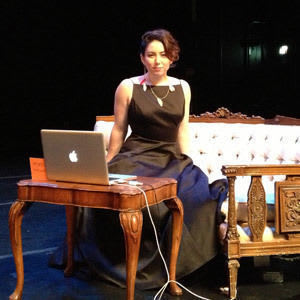 Simply using Skype in a play is unlikely to wow anyone anymore, however the emerging medium is put to good use in this interactive production. The audience, or perhaps better to call us the participants, are shepherded to different screens to meet a total of three characters from across the globe.
Each character is very different and there is no interlinking story. What there is though is a complicity, a bond is formed, or the actor at least attempts to form a bond with the participant. How they try to form the bond and involve the participant varies widely.
No participant's experience is going to be the same. There is a whole collection of actors scattered across the continents and it is a dialogue not a moologue, although the actors tend to do most of the talking. It was very interesting how easily both people became familiar with each other, through eye contact as much as through what is said.
I had a good range: a woman (Oksana Mysina) under house arrest in Moscow, some strange goings on in Edinburgh with shady bearded man (Eric Robertson) and a dreamy girl (Caliane Schafer) in New York.
All three give good performances, they all draw you in with their friendliness but at the same time opened up about their lives in a slightly unnerving way. You become involved with their secret, part of their plans. It is often much easier to suspend disbelief than when you are with an audience in the theatre.
Essentially you have to suspend disbelief; there is no other option, you have to become involved and essentially you have to perform, to enter into the actor's story.
It is a very interesting project and it certainly raises all sorts of possibilities about the use of this technology in the theatre. And the Skype is certainly not the limit.
Reviewer: Seth Ewin