Chronicles of Long Kesh
Martin Lynch
Green Shoot Productions
Tricycle Theatre and touring
(2010)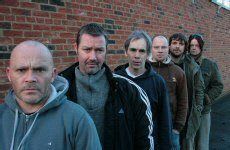 Although reflecting the experience of actual prisoners and internees at Her Majesty's prison at Long Kesh - the Maze as it was later known - and owing much, as playwright Lynch acknowledges, to interviews with them, their families, prison officers and welfare workers,this is not a docu-drama in the Tricycle's own verbatim style for, though the incidents and facts may be drawn from real life, they are played out by fictional characters.
It is not a political history. The Troubles are, of course, the reason and the background to what we are presented with but there is no rehearsal of the political arguments over independence, and no discussion of the ethics of terrorist tactics while any reminders of why this group of men have been imprisoned here - republican or loyalist - are unjudgemental.
It is indeed a chronicle that takes us from the clearing of the Long Meadow to build an RAF station through the creation of a prison, the introduction of internment, its ending and reintroduction, the building of the H Blocks, the blanket and dirty protests, the hunger strikes and deaths of Bobby Sands and nine other hunger strikers, and prisoner breakouts.
We witness some graphic violence both between warders and prisoners and prisoner-on-prisoner but, whilst you momentarily feel the kicks and punches, it is very stylized and registers the skill of the performance rather than the pain. The excitement it generates feeds in to what we might call the feel-good factor of the show which is almost always upbeat, bolstered by bursts of contemporary popular song, often from the Motown repertoire of Smokey Robinson.
The effects of separation from family, the pain of one man when he hears his wife has lost their baby, are certainly very real but even when, with the release of internees, the removal of political prisoner status for those convicted leads on to drastic protest action there is bold humour. A man, besmearing the walls of his cell with shit decides to make it homely by using it to paint a mural depicting fireplace and vase of flowers.
This is a play about the experience of these men while they are in the prison. It is not concerned with the victims on both sides of the conflict on the streets or in their homes. It is a celebration of the survival power of the human spirit, whichever side the individual is on. Whatever awful things people do, what they will suffer to protest their rights or advance their cause has to be respected. The writing and the performances make you care about these people, or at least the main individuals who you come to recognize, for, except for Billie Clark playing leprechaun-like ineffectual prison officer Freddie who acts as chorus, all the performers play several roles.
Marc O'Shea as the diminutive Toot (not a full shilling according to one of his mates) continually claims his innocence and he is such a delightful personality that you are inclined to believe him, His incarceration contrasted with flock of gulls he makes his friends .Toot is illiterate, but caring and educated Eamonn (Chris Corrigan) offers to teach him to read. There's relief when Eamonn decides not to take part in the first hunger strike, because you've come to like him, and concern when he joins the second. Marty Maguire is bright and ebullient Oscar, always ready to lead off with a song, but touching when not so confident. Jo Donnelly, playing wives and any female roles, is also boldly masculine and tough and Andy Moore as Protestant Dylan-fan Hank, shows us a gentle idealist becoming hard man.
Lisa May co-directs with the dramatist and the strong physical theatre style reflects that of her Bruiser Theatre company. Things open with a drill parade that introduces the characters and positions held for a moment sometimes mark out scenes. There is also a lot of moving around of the coffin-like boxes which furnish David Craig's simple set, but the actors do it with such smooth, slick timing that it never interrupts the flow. But most importantly they have welded this company into a fine ensemble, though one in which every individual shines as the character they are playing.
The Maze was closed in September 2000 but Lynch gives a postscript to his chronicle by telling us what his characters went on to do. One becomes an MP in the Northern Ireland Parliament, one a community worker and part-time university lecture, another became reliant on cocaine and booze while lively little Toot - I really wanted to discover he turned out - simply announces that you don't really want to know!
Chronicles of Long Kesh does not explore the issues or tell us anything we didn't already know but it makes an exciting piece of theatre and for that and the fine performances it deserves the warm reception that it certainly received.
At the Tricycle until 17th April then Tron Theatre, Glasgow 20th-24th April, Everyman Theatre, Liverpool 27th April - 1st May
This production was also reviewed in Belfast by Ian Hill
Reviewer: Howard Loxton