The Long and the Short and the Tall
Willis Hall
Creative First Theatre Company
Pleasance, Islington
(2006)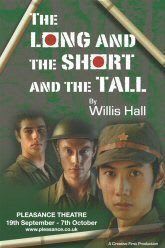 Currently playing in a converted office of the Pleasance Islington is a fine ensemble performance that fits the space so perfectly that it almost seems written with the studio in mind.
Of course, The Long and the Short and the Tall, written by Willis Hall and first performed at the Royal Court in 1959, helping to launch the career of Peter O'Toole, is no new play. However, it still seems as relevant today - with the notion that this could be a modern British Battalion in an Iraqi or Afghan hut rather than one in the Malaya jungle.
The play is presented with all its rough edges and laughter and the intimacy of the space means that you have the feeling that you are 'in it together.' You can sense and understand, relate to and feel for the characters as they are faced with life or death situations.
A strong cast enhances the effectiveness of the performance. Ben Tillett as the Peter O'Toole part of Private Bamforth convinces and holds the space well, especially in the second half of the show, where the character seems to present a depth beyond the arrogant teasing young lad presented in the first half. Also worth a mention is Steven Miller who is excellent as the intense and serious Lance Corporal Macleish. Miller's attention to detail was extremely convincing throughout and this made for a powerful performance.
The pace of the show is just right, despite a few small blips and drops in energy. There was a slight tendency to 'over play' moments - the communication between the British soldiers and their Japanese hostage is an example of this. However, for the most part the switch between comic and serious moments sat nicely in what felt like a slice of reality.
The idea that this is 'real' is helped by a fantastic little set design, with bamboo and slates of wood tied into the structure of the studio. The director also encouraged effective use of the space; giving his actors the opportunity to breathe life into the text and to the small stage area.
A sort of Journeys End meets Dad's Army, this a beautiful little rendition of an old classic which is well worth the visit - if not to hear the text or see the strong ensemble, then to check out the uses that The Pleasance makes of its old offices.
The Long and the Short and the Tall Plays until 7th October 2006.
Reviewer: John Johnson