Looking for Buddy
Alan Plater
Octagon, Bolton, and Live, Newcastle, co-production
Octagon Theatre, Bolton
(2009)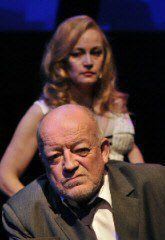 The Octagon collaborates with Live Theatre of Newcastle to produce a brand new musical play from veteran stage and TV writer Alan Plater which continues his fascination with jazz music that he explored in his TV series The Beiderbecke Affair and its sequels.
Tim Healy stars as unemployed architect Phil in Wallsend on Tyneside who quotes Raymond Chandler and has an encyclopaedic knowledge of early jazz. It is therefore an amazing coincidence when a beautiful blonde walks into his office by mistake looking for the private detective downstairs to ask him to find a lost recording of jazz musician Buddy Bolden whom Phil knows for certain died without ever making a recording. Or perhaps it isn't a coincidence.
Plater places his Chandler-pastiche comedy against a socio-political backdrop of the formerly-industrial north east with an anti-Thatcherite undercurrent, with mentions of the closure of the local coal pits, the evangelical Good Earth Corporation whose owners are difficult to trace and whose sweeping plans for 'regeneration' take no account of local need, and the character of former shipyard worker Frank who now gets excited about getting a machine in his café that lets him serve forty different types of coffee. However the politics are always firmly in the background and issues are not really explored in any depth as the comedy and the music take centre stage.
This is not a jukebox musical – all of the songs are original with lyrics to fit the story and music by Alan Barnes played by a three-piece band led by Howard Gray, sometimes supplemented by instruments played by the actors. Unfortunately the sound is quite poor with some distorted radio mics and a rather muddy overall sound mix that sometimes makes the lyrics indistinct.
The story itself, told by a mixture of Chandleresque pastiche narration and simply-staged scenes, is quite complex but it does lose its way sometimes; why this multi-national corporation with high level political backing should ever feel remotely threatened by this rather pathetic amateur detective is unclear. However this is made up for by some great comedy in the sharply-witty dialogue and some funny songs and by the great energy in the piece.
Healy is wonderful as the rather crumpled and dour lead character with some subtle but hilarious facial expressions, a surprisingly-decent singing voice and some brave attempts at something approaching dancing. Nicholas Lumley displays a superb singing voice, especially as Blue Note jazz club owner Fat Jack in the very funny 'Lean, Mean and Lowdown', although as one of the company heavies he does look a little like a Chuckle Brother (some hilarious dance moves though). Phil's love interest is Jayne McKenzie, with Jane Holman as his sister Bella, a Marxist who protests at any changes before she finds out what they actually involve. Phil Corbitt is café owner Frank, and Jacqueline Boatswain is suitably cold and businesslike as Zelda from the Good Earth Corporation.
Designer Helen Goddard gives the actors and musicians a small, black cabaret stage to share with a broken-up screen behind them for a constant stream of subtle images and film clips from AV designer Joe Stathers-Tracey which are effective, although a few have too low a resolution for a large screen.
This latest offering from the Octagon is short and very funny with some great live music and a superb lead performance, which all adds up to a fun night at the theatre that is to be recommended.
To 25th April
Peter Lathan reviewed this production when it moved to Newcastle
Reviewer: David Chadderton