Loot
Joe Orton
The Watermill
The Watermill Theatre
–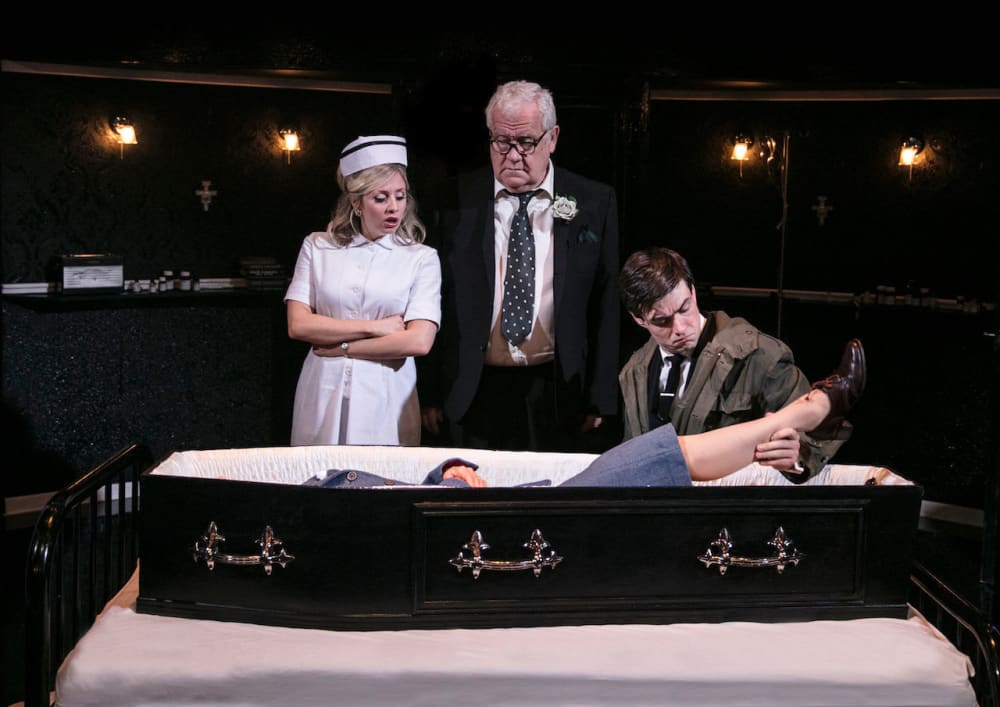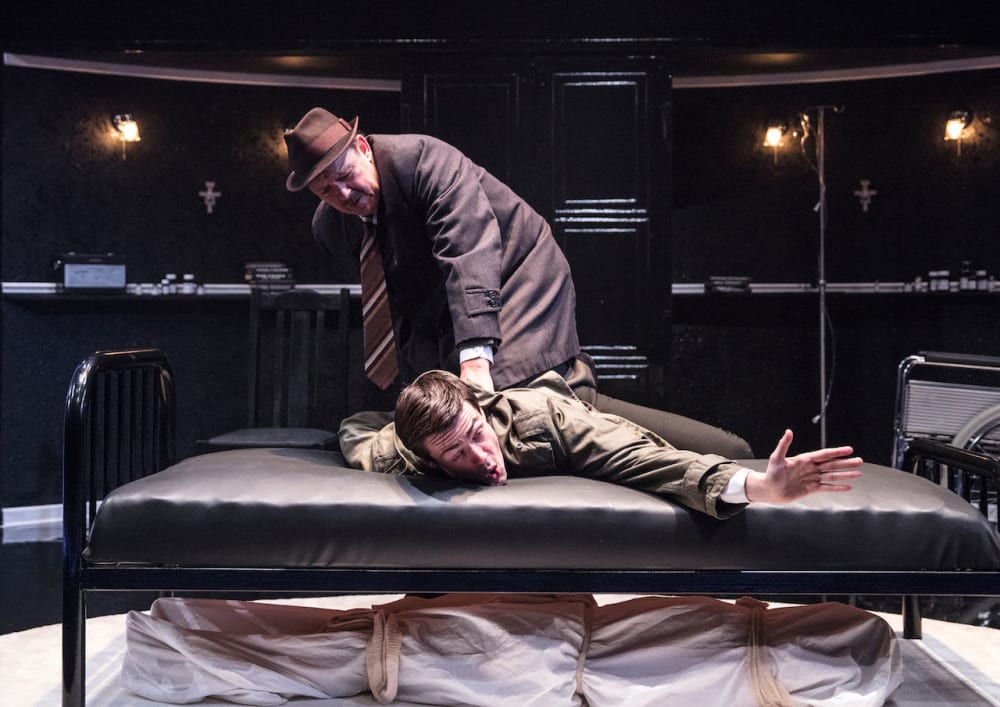 It's over fifty years since Joe Orton's daring black comedy Loot was first performed in London and shocked some of the audiences, many leaving before the end, with its irreverent portrayal of the Catholic Church, the treatment of the dead, the corrupt police and homosexuality.
It is also the anniversary of his death, when he was bludgeoned to death by his lover, Kenneth Halliwell. The two had a tempestuous life spending some time in gaol for defacing library books and Halliwell becoming more jealous of Orton's growing success. He won The Evening Standard's Best Play Award in 1966.
In the Watermill Theatre's impressive production, strikingly directed by Michael Fentiman, this cynical, rollicking farce still manages to shock as well as provide much hilarity.
It is set in Mr McLeavy's house on an imposing, funereal, black set designed by Gabriella Slade with stained glass windows and gold crosses and an ominous cupboard.
Centre-stage is a coffin with the body of late Mrs McLeavy (Anah Ruddin) awaiting her interment. The distraught, grieving husband, splendidly played by Ian Redford, is being comforted by Mrs McLeavy's nurse McMahon.
Sinéad Matthews gives a wonderful performance as the feisty nurse Fay, who has been married seven times with all of her husbands dying under suspicious circumstances.
She has already helped herself to the late Mrs McLeavy's slippers, jewels and clothes and has a plan to make Mr McLeavy her next husband. She tells him, "you've been a widower for three days have you thought about a second marriage?"
The plot becomes more complicated when McLeavy's wayward son Hal (Sam Frencham) and his boyfriend Dennis (Calvin Demba) who works in the next door funeral parlour and is responsible for the remains of Mrs McLeavy need to find a hiding place for the money they have stolen in a bank robbery, but where to put it?
It starts off in the cupboard and is then hidden in the coffin, but that means moving the body in a tremendous piece of slapstick comedy and all credit to Ruddin for being so roughly manhandled.
With the arrival of police detective Truscott disguised as a Metropolitan Water Board official, the whole situation becomes totally bizarre.
Christopher Fulford is outstanding as the sadistic inspector determined to solve the mystery, especially when he finds a glass eye and viciously interrogates Hal. He is unscrupulous and as he says, "policemen, like red squirrels, need to be protected." He is ably assisted by Raphael Bar as Mathews.
He becomes more embroiled in the madcap situation and eventually agrees to take a cut of the loot revealing, "we have a saying under the blue lamp: 'waste time on the truth and you'll be pounding the beat until the day you retire'."
Orton's play is as relevant today as when it was first written and some of the original lines censored by the Lord Chamberlain have been reinstated including references to a Pakistani brothel and corrupt police that ring true.
It's all tremendous fun and this is a production not to be missed.
Reviewer: Robin Strapp