Lord Dismiss Us
Adapted by Glenn Chandler from the novel by Michael Campbell
Boys of the Empire
The Space at Surgeons' Hall
–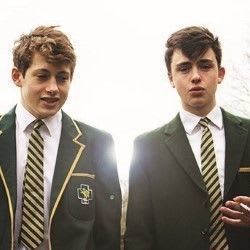 Michael Campbell's 1967 novel Lord Dismiss Us has been skilfully adapted by award-winning playwright Glenn Chandler, best known for his television series Taggart.
It's set in a quintessential public school in England before the adoption of the Sexual Offences Act 1967 that legalised homosexual acts between two consenting men over the age of 21 in private.
Weatherhill School is a hotbed of boys with raging hormones, testosterone-driven crushes and tentative, erotic love affairs.
There are 14 unmarried masters at the school and with the arrival of the new Scottish homophobic Headmaster and his domineering wife things are about to change as they are determined to oust the current permissive climate.
David Mullen is simply superb as the strict, blustering Headmaster but he also delightfully plays the camp Vicar, the Reverend Starr, who has paintings of naked boys on the wall of his study.
Meanwhile, his wife, a beautifully built characterisation from Felicity Duncan, is attracted to the school's chaplain but is also on a quest to discover the miscreants.
Amongst the boys, Head of Priestly House Joshua Oakes-Rogers as Terry Carleton gives a sensitive, vulnerable performance of someone who was in a relationship with Naylor, enthusiastically played by Jonathan Blaydon, but has now switched his affection to the new fourth-former Nicholas Allen.
Joe Bence brings an innocent vibrancy to this character, but we discover that he was expelled from Eton for having a "relationship with another boy." His secret note to Carlton, left in a raincoat, is most touching but also becomes Carleton's downfall.
This brings personal dilemmas for Matthew McCallion as Head Boy John Steele who knows too much about the goings on in the school and has torn loyalties.
Also expelled as a pupil from Weatherhill in the past is Eric Ashley, who was eventually appointed as an English Master by an understanding former head, convincingly played by Tom Lloyd, and is now the thorn in the side of the new Head. But he is also coming to terms with his own personal demons.
There is so much to enjoy in this play and the school production of Peter Piper is a hilarious camp romp with a Canadian twist.
It's all-great fun but with an important message performed by a superbly talented cast and should most certainly not be missed.
Reviewer: Robin Strapp