Lord of the Flies
Adapted for the stage by Nigel Williams from the novel by William Golding
A Gala Theatre and Durham Student Theatre co-production in association with Unfolding Theatre
Gala Theatre, Durham
–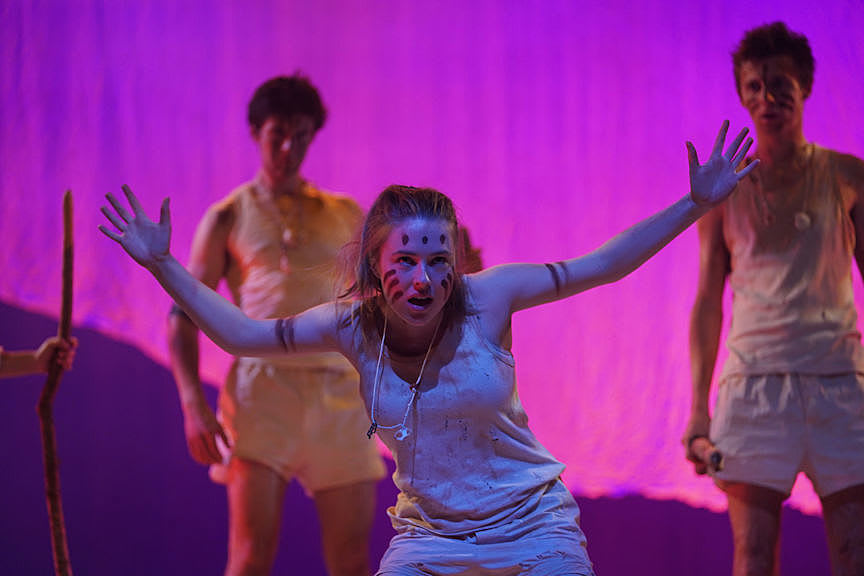 In some ways, Lord of the Flies is very much of its time. Those of us who lived through the fifties (the novel was written in 1954) will be only too aware of the constant fear that nuclear war could break out at any time, leading to total annihilation. We can well understand the belief of many of the boys that the grown-ups had been wiped out and they were alone in the world.
Also of its time is the social structure. There is a public/prep school feel about the characters, which is hardly surprising as, in general, the state grammar schools of the time modelled themselves on them, so the public school ethos predominated throughout the education system.
And of course there is the disappointment in the voice of the naval officer that "British boys" should have descended to such a low level of behaviour.
The theme, however, the thin veneer of civilisation the boys have when first they find themselves alone on the island and try to set up an ordered way of working together but which vanishes so quickly and degenerates into tribalism and barbarism, is as relevant and as urgent now as it has ever been, at a time when we have seen a no-holds-barred struggle for power amidst the growth of intolerance of difference, of hatred of minorities, of racism, misogyny and xenophobia and an explosive rise in hate crime.
This production, directed by Unfolding Theatre's Annie Rigby, is very much of its time. The casting is gender-blind, with the boys' roles shared equally between the young men and young women of Durham Student Theatre (along with two young children, one boy and one girl). There is no attempt to disguise the women as boys; although they have boys' names, they are clearly women, reflecting the reality that girls / women are as likely as boys / men to relapse into barbarism or fight to remain civilised.
The island is a three-level set neutrally coloured with a series of pillar-like forms representing trees, designed by Andrew Stephenson, with Elliot Nelson's lighting adding colour to indicate both the passage of time but also mood changes, reinforced by John Alder's sound design, loud and at times threatening.
Cameron Ashplant plays Ralph and captures that almost bewildered air of knowing that they must hang on to their civilised values and hope of rescue but not knowing quite how, whilst the perpetually bullied Piggy is played by John Broadhead with an air of fear and determination, fear that he will suffer as he always suffers (the civilised veneer is very thin in children when they scent fear) and determination to push for what he knows is the right thing to do. It's a very convincing performance of a very complex character.
Characters don't come more complex than Simon, played here by Martha Dean. Somewhat fey, very sensitive and afflicted by epilepsy (just suggested in the book but very obvious in this production), it's a challenge for any actor but 20-year-old Dean meets it head-on and wins!
Jack, the Choir prefect, has that sense of entitlement from his position that makes him feel that he, not Ralph, should be the leader and he has the ruthlessness and the charisma to carry a significant proportion along with him in his breakaway. Layla Choudhury really embodies the character, adding a sense of enjoyment—perhaps glee might be a better word—at the blood lust he is able to arouse in his followers.
The support from the rest of the cast is excellent and director Annie Rigby keeps the tension vibrating throughout. This is the first time that the Gala has co-operated with the Student Theatre Company, following a series of successful in-house productions and, as an experiment, it can certainly be considered a great success. The student actors, supported by the full professional backing of the Gala and Annie Rigby's Unfolding Theatre, rise to the occasion. This is not a case of a student company coming into receiving house but all three have merged from the beginning to give the students a brilliant experience of professional theatre and the theatre access to a group of actors who can convincingly play teenagers.
Reviewer: Peter Lathan