Lord of the Flies
William Golding Adapted by Nigel Williams
Theatr Clwyd and Sherman Theatre
Theatr Clwyd
–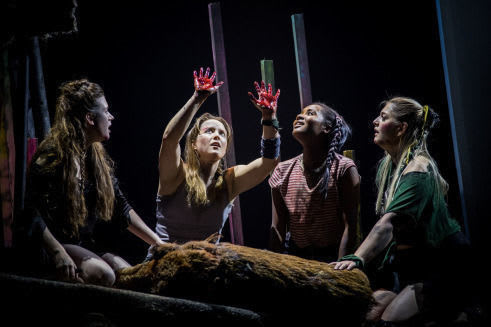 The Theatr Clwyd autumn season has begun with a gripping, all-female version of Lord of the Flies that certainly shakes any lingering summer doziness out of its audience.
William Golding's consideration of power and the inherent nature of human cruelty is as relevant now as it ever has been and a strong cast deliver a performance of passion and energy that is essential, if at times uncomfortable, viewing. Director Emma Jordan has said that it is up to the audience to decide what impact the all-female cast has on the narrative and, on the evidence presented tonight, it is simply that of a talented group of actors delivering a compelling performance.
James Perkins's stage design serves the need to present the 'desert island', with a beach, mountains and forest very well. When combined with some thrilling lighting and sound effects, the result captures the dystopian essence of the story perfectly and presents a vivid spectacle as the shipwrecked children slowly degenerate into savage brutality.
The cast electrify the stage with Kate Lamb a particular livewire as the power-crazed and increasingly barbaric Jack, desperate to attain leadership and driven by a growing hatred of her rivals. She uses the fear the others have of "the beast", the unknown of the island, to gain further control by forming "hunting parties". Lola Adaja is making a very impressive stage debut as Ralph, the studied contrast to Jack, who strives in vain to maintain control and social order as the lure of savagery becomes irresistible to most of the group.
Bullying of the weak, another ever-present human failing, is mercilessly portrayed: firstly of the overweight and bespectacled Piggy, movingly portrayed by Gina Fillingham, and then of the gentle, epileptic Simon. This production is not only uncomfortable and unsettling viewing; it is also convincing. The best evidence of this is the increasingly chilling howls emitted by Jack and her hunting party as further violence looms.
The question of whether the characters should have retained boy's names is interesting and not easily answered. It can seem slightly incongruous, but it does also convey the fact that neither gender has a monopoly on violence and cruelty. This can take the original theme of Golding's novel to a new level and, to this reviewer, adds to what is a vibrant, energetic and chilling production.
Reviewer: Dave Jennings