Lord of the Flies
William Golding, adapted by Nigel Williams
The Broadway Studio Theatre, Catford
(2009)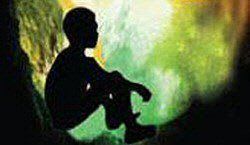 William Golding described his powerful parable in two ways: firstly, as a debate about the very roots of English society, and then, as a lament for the lost childhood of the world.
The Lord of the Flies has been immensely popular, especially with young people, ever since it was published in 1954.
Choir boys, aged 12 to 13, turn savage when their plane crashes during a nuclear war and they are stranded on a deserted island and there are no adults to check them.
The evil is already there within them and the line of demarcation between civilization and barbarity is wafer thin. (The Holocaust was proof enough of that.) Democracy quickly gives way to Fascism and an idyllic island (potentially paradise) turns into a horrific nightmare.
Two boys are murdered. A third is about to be killed when they are rescued. "I would have thought," says their rescuer, "that a pack of British boys would have been able to put a better show." The line is delivered without irony. He obviously didn't go to a public school.
Golding's novel was turned into a famous but not very good film by Peter Brook in 1963. Nigel Williams' stage adaptation was first acted at King's College Junior School in Wimbledon in 1991 where his son was a pupil. Its first professional production was by the RSC in 1995.
Productions have been seen all over the world ever since. The latest is by Cameron Jack, a director to watch out for, and he fields a convincing ensemble. His highly physical production will prove invaluable for young people who are studying the novel and also very useful for casting directors looking for young actors in their twenties.
Reviewer: Robert Tanitch