Loserville
Elliot Davis and James Bourne
West Yorkshire Playhouse, Kevin Wallace for First Act! and Youth Music Theatre UK
West Yorkshire Playhouse
–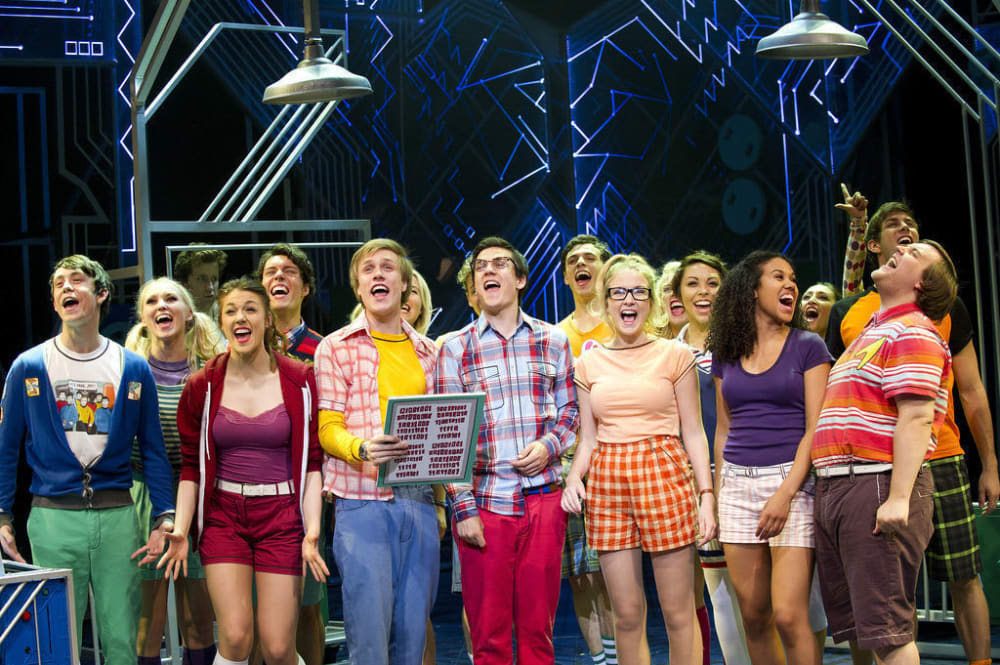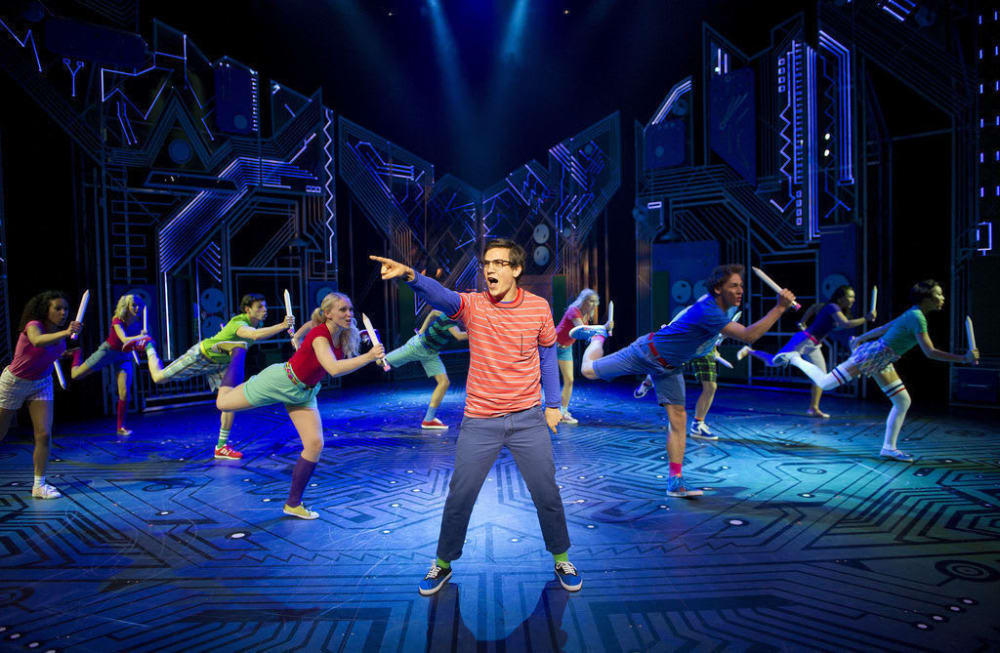 Loserville is a new musical co-written by James Bourne, former guitarist of early 2000s teen sensation Busted. It includes adaptations of several of the pop-punk songs penned for Bourne's offshoot band Son of Dork, and features Gareth Gates in a comic second-tier lead, as well as someone who apparently chooses to go by the name "Lil' Chris". It goes without saying that this will not be to everyone's taste. West Yorkshire Playhouse, though, has a proven track record in premiering adventurous new musical work, and their recent Angus, Thongs and Even More Snogging showed that more teen-oriented productions could be put together in well-crafted, accessible and fun ways which appeal to the adults and non-initiates in the party too.
Bourne's musical, co-written with more experienced musical writer and arranger Elliot Davis, is set in the rather generic high school America which forms the emotional backdrop to many of Bourne's songs. However, the setting takes us back to 1971 and the birth of the Internet, with the story centring round the race to be first to send a message from one computer terminal to another. Geeks flood the stage and preppy pretty boys (led by Gates, playing dumb in marvellous self-deprecating form) are squeezed to the margins.
The setting offers opportunities for some clever jokes and references, and some of these are wittily exploited. One of the geeks wants to be a writer, and has just completed 'Galaxy Battles', his epic tale of the struggle between good and evil, set among the stars. It begins, of course, with Episode IV—"I thought I'd start with the sequel," he explains. Gates's star presence is also cleverly exploited for some of the show's better gags, and on the whole he is a winning performer, happily playing a comic supporting role while making his solo songs look effortless.
Too much of the book, though, is sloppy and half-hearted, with an ensemble of excellent performers and a setting full of potential ill-served by some weak jokes and plot points. The love story between Michael Dork (the delightful Aaron Sidwell) and Holly Manson (the equally delightful Eliza Hope Bennett) has some fine moments, particularly in the staging of their first date together, but tails off when it should gain momentum and emotion. The supporting cast, including Lil' Chris (Chris Hardman to his mum) and Daniel Buckley as geeks, and Charlotte Harwood, Lauren Hall and Witney White as the pretty prom queen and her entourage, willingly throw their all into some rather washed out gags.
And given the set-up, actual geeks in the audience will be disappointed at the lack of attention to detail. Fair enough, we can make the imaginative leap that this is a parallel universe in which e-mail was in fact invented by a pair of love-struck teenage high-schoolers, but the wit of the whole production suffers from a rather generalised approach to the premise. Increasingly contrived Star Wars references combine with blandly generic coding jargon (someone refers to 'thousands of binary languages'—of course there's only 1 binary), and some jarring anachronisms such as the reference in one song to the (1993) film Groundhog Day.
This is a case of missed opportunities and wasted potential rather than flaws to scupper the show completely for (what I presume is) its intended audience of young teens. Where this production does shine, on the other hand, is in its staging and choreography. Francis O'Connor's set is multi-purpose and intricate in a wonderful, flexible but unfussy way. A cartoonish theme of oversized pencils and notepads lends an unreal and fun aspect to the space, and clashes productively with the circuit boards and neon representing the retro-futuristic world of computers. Howard Harrison's lighting design meshes beautifully with the whole, and provides several moments of beauty. And Steven Dexter's direction is imaginative and assured throughout, with Nick Winston's choreography contemporary, thrilling and fun.
With fairly similar structures, tempos and singing styles for each song, the moments of difference really stand out, and Eliza Hope Bennett's performance is one which shines. She reaches uncharacteristically (for Bourne's writing style) low notes in songs such as "Breakout", and though she's introduced with an unfortunate couplet about boys "who only see tits and not my mind", which does not bode well, she quickly becomes a winning presence with some of the finest singing and most heartfelt moments of performance.
Along with Sidwell as head geek Michael and the impressive newcomer Richard Lowe as would-be sci-fi author Lucas, these are strong leads. In fact, not one member of the ensemble puts a foot wrong, and it's only the weakness of the script and repetitiveness of the songwriting which lets them down. The show does, however, have the distinction of earning the largest round of applause I've ever witnessed for the sending of an e-mail.
Reviewer: Mark Smith