Losing Myself
Peter Barnes
Original Theatre Company and Perfectly Normal Productions
Original Theatre Online
–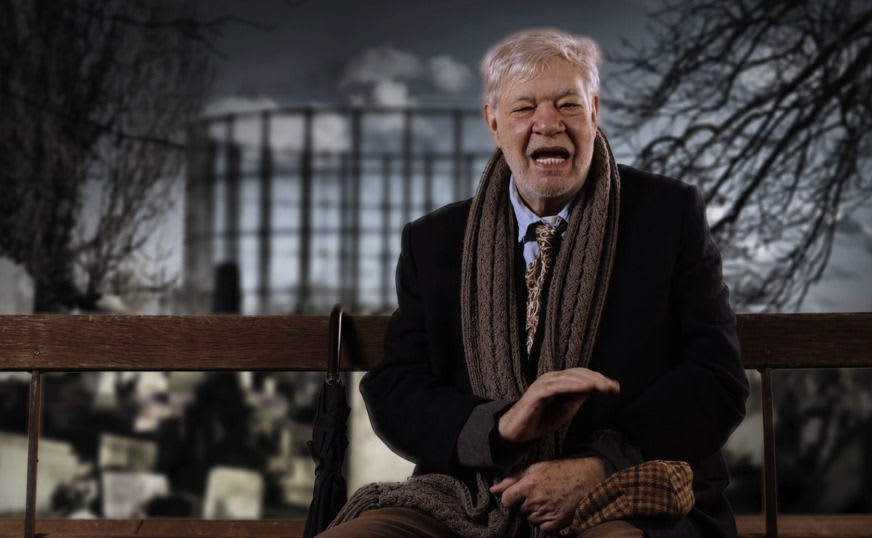 Losing Myself is one of the Barnes' People series of monologues originally written for radio and broadcast by the BBC in 1989–90 and this production, filmed on the stage of the Theatre Royal Windsor, is one of four now available from Original Theatre Online.
It presents us with a former doctor called Adams who has spent a life serving London's poor as well as having a Harley Street consultancy. He is sitting on a bench in a London graveyard talking to Maurice, a man who died, aged 68, in 1950. He chose him from all the graveyard because his gravestone recorded that he died alone.
There is the feeling that this isn't the first time Adams has come here to share his feelings with someone long gone but today he has news for the departed. Developers have got round all the barriers against building on the graveyard and work has actually started in the section where the poorest's bones are laid.
Matthew Kelly makes this a gentle, accepting Adams. There is a wry humour in the way he accepts that a life of apparent service and achievement may not have been so worthy. He looks back now on a history of loss from that of childhood favourites (what did happen to that rocking horse?) to loss of memory and mind; a loss of faith and self-belief that sought relief in alcohol.
Director Philip Franks and photography director and editor Tristan Shepherd place emphasis upon this being a piece of theatre, not only by placing it in a playhouse and on a stage and only slowly introducing a scenic setting but also by cutting to shots of the auditorium or from the wings. Perhaps they are intended as a Brechtian ploy to put thinking before feeling, but I found them too disruptive, though the closing sequence proves very effective.
For Londoners, the view of gas-holders beyond the graveyard will give a contemporary edge to this 30-year-old story of redevelopment as the HS2 works drive across a Kings Cross cemetery, but this touching picture of self understanding will resonate with everyone and Kelly gives it a humanity that makes it positive instead of being depressing.
Reviewer: Howard Loxton