Losing Louis
Simon Mendes da Costa
Trafalgar Studios
(2005)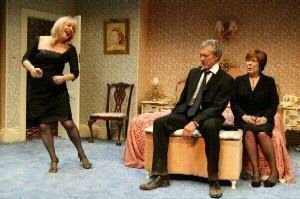 Simon Mendes da Costa's comedy, first seen at Hampstead Theatre last January, cleverly combines suburban bedroom farce with a fraught family reunion, plus funeral obsequies relieved by some of the funniest, naughtiest jokes ever heard in a West End theatre.
Throw in a batch of rave reviews and Alison Steadman's deadliest comic turn since Abigail's Party and it's easy to predict that this one will run and run at the audience-friendly Trafalgar Studios a few steps along Whitehall from Nelson's Column.
This accomplished new play occupies Ayckbourn territory with its past and present events separated by fifty years, while taking place in the same cosy bedroom, complete with en-suite bathroom and timeless furnishings. Here is where we first see the Louis of the title, a randy Jewish solicitor (Jason Durr), having it away with pretty blonde Bella (Anita Briem), his wife's best friend and his professional protégée.
But their love tryst is suddenly interrupted by a toy car pushed from under the bed by his six-year old son Tony. Then, as Louis buttons his flies and berates the boy, we seamlessly move on half a century with the now 56-year old Tony (David Horovitch) making his disgruntled entry, downing treble whiskies as he prepares to deliver a funeral eulogy over his dead Dad's economy class coffin.
Nothing goes right with this funeral, arranged by local undertaker Jakes, whose chief business is baking remarkably good cakes, but at a loss to cope with a storm-drenched interment that turns the newly-dug grave into a pool of muddy water.
As Tony's wife Sheila, Alison Steadman in a beautifully observed performance of ferocious sexuality, devastating candour and sheer physical bravura, smoothes her figure-hugging, little black number and commiserates with clever sister-in-law Elizabeth who has just lost her mother: "Did she really die on Christmas Day?" Sheila asks. "Ooh — all that preparation!"
Lynda Bellingham as Elizabeth has her own sexy secret, a precious wedding ring hidden away in a very private place, hinting at clitoral piercing to match her diamond necklace, and a neat moment of mooning as she shuts the glazed bathroom door.
But the main battle is joined between Tony and his sibling rival, half-brother Reggie, (limber Brian Protheroe); arm wrestling for the spoils of inheritance, comparing notes on the relative advantages of a foreskin over circumcision, and in a couple of scenes of quiet acceptance resolving the misunderstandings of a lifetime.
The past too has its touching revelations for Emma Cunniffe as Louis' wife Bobbie, coping with a stillbirth while exploring her future as third part of a triangle between Bella and her husband: a 1950s relationship that will cast its shadow on events in the 21st century.
When the play first transferred to the Trafalgar there were critical complaints about sightlines, and it may still be better to avoid aisle seats on the extreme right of the auditorium. But Robin Lefèvre's staging (with a sumptuous bedroom setting by designer Liz Ascroft) never puts a foot wrong. And if the play seems a tad too long, the seamless flow events between past and present makes this one of the most enjoyable adult shows in the West End.
Reviewer: John Thaxter