Lost in Yonkers
Neil Simon
Watford Palace Theatre
–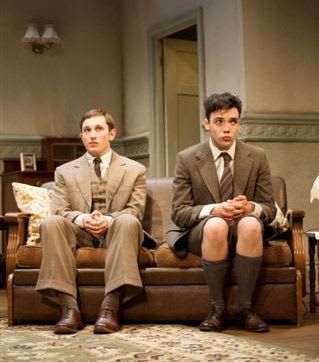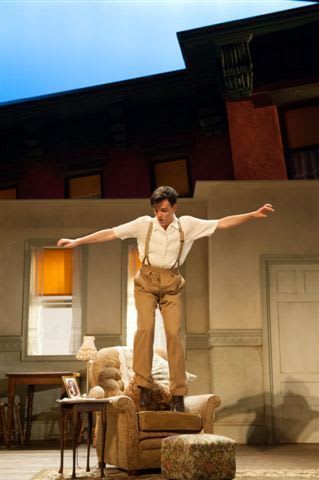 Neil Simon's 1991 Pulitzer and Tony Award prize winner is set in Yonkers, a city on the East side of the Hudson that borders the New York City borough of the Bronx between August 1942 and August 1943, but it is not the war that has brought sudden change to the lives of teenage Jay and his younger brother Arty.
Their mother has recently died from cancer and their father is going south, taking to the road as a metal dealer, partly to help the war effort but more importantly to pay the hospital bills they are left with. He arranges for them to move in with their grandma, a difficult German-Jewish martinet whose own children seem still terrified of her.
It is a painful situation but this is a comedy, though a dark one, and there are plenty of laughs. Between scenes as time moves on there are voice overs, the letters between father and sons, and this gives it the feel of a memory play. You can't help but feel Simon is drawing on personal experiences with his older brother Danny, but this is a truly damaged family.
Dad Eddie has never stood up to his mother; she clearly thinks him a wimp, and he has kept his children well out of her way until now. Uncle Louie learned how to handle her but he is some sort of small time gangster. Auntie Gert, has a nervous speech impediment, and Auntie Bella is a bit simple-minded. Matriarch Mrs Kurnitz has kept Bella at home, helping out in their shop beneath the apartment and always at her beck and call.
Grandma was brought up in a hard school and that's the way she treats her family. There is no sign of love there, just discipline and toughening them up for the world. She punishes for things she knows are not their fault as part of their training. We see things from the boys' point of view. The old tyrant, hobbling around on a walking stick, is cast as wicked stepmother, though strong enough to manipulate a put-you-up sofa bed single-handed. We don't get explanations, just circumstances; nobody likes them asking questions and Auntie Bella wants them to ask her questions for her.
We watch the boys handling this situation, Jay (or Jacov as she insists on calling him) going wild when he thinks Grandma out of earshot and Arty (she calls him Arturo) more compliant for a quiet life. Though lacking in love she is strong on responsibility and does things for their good. After she forces Arty to gulp down horrid mustard soup for a fever, he actually feels better in minutes.
Bernice Stegers plays Grandma as her children and grandchildren see her, a one-dimensional character, but towards the end of the play we momentarily see something of what has made her the way she is; she is forced to re-adjust her relationship with Bella. Laura Howard brings to the seemingly childish daughter not just rebellion but an awakening of self-understanding, which actually makes her situation more tragic. Jonathan Tafler as the boys' father, fraught and flustered when he dumps his sons in Yonkers, also suggests a man who has not just got himself a smart suit by the end of his year's travels but has grown in self confidence.
Jos Slovick as Jay and Keith Ramsay (making his stage debut) as Arty face quite a challenge in playing the youngsters. It is one thing for adults to become children with audience connivance but much more difficult for young men to shed years and in 1942 children stayed children. This pair manage it by the sincerity of their acting and, in the case of Arty, helped by short trousers and knee.
Their performances and Derek Bond's direction got a warm response from the audience, laughter running parallel with the more poignant side of the play. It is mounted in James Perkin's ceilingless box set, behind which rear the angled facades of typical Bronx buildings that add to the sense of entrapment.
It is easy to see why this has been described as Simon's most serious play and some of its funniest moments are also tellingly serious and it leaves one thinking quite deeply about the effect that upbringing has on us.
Reviewer: Howard Loxton