Lost Without Words
Improvised by the company
National Theatre and Improbable
Dorfman Theatre, National Theatre
–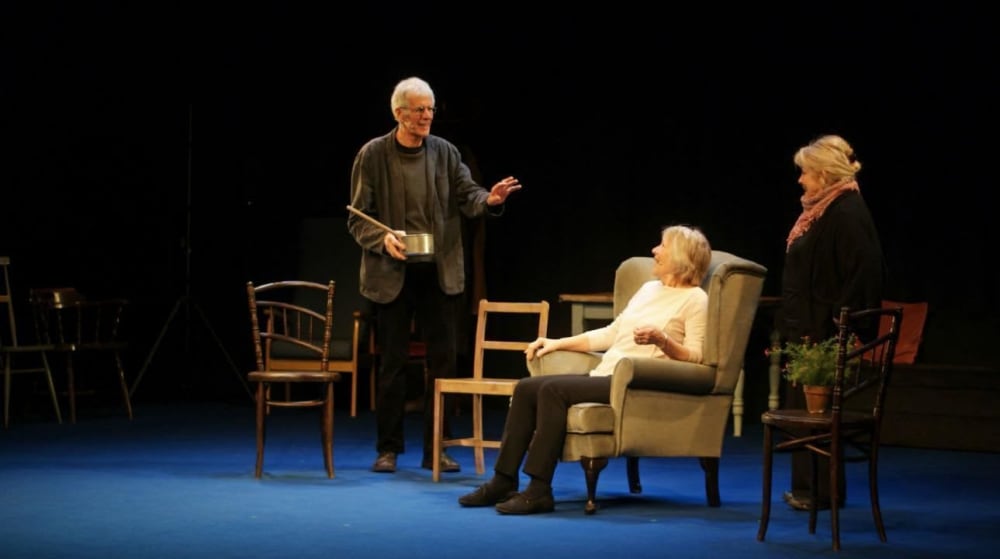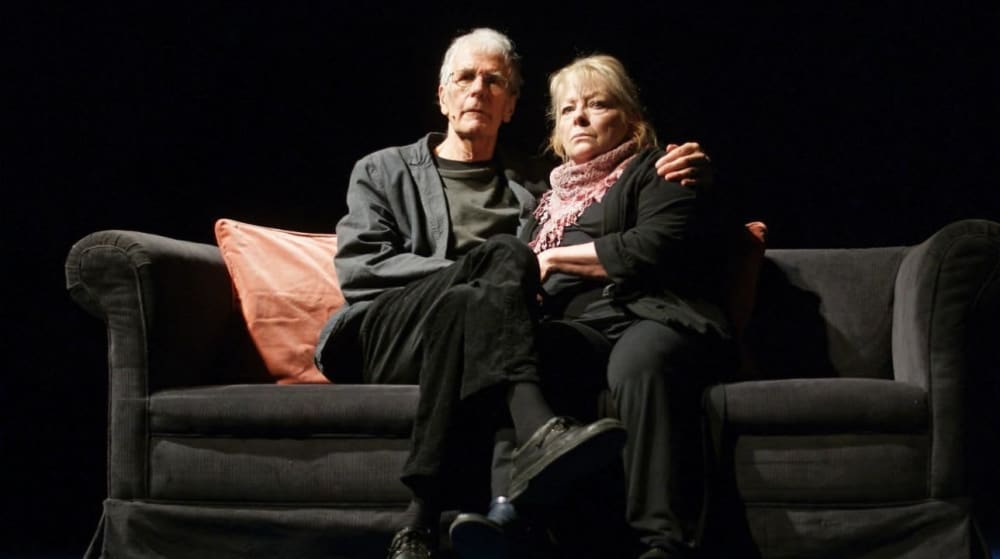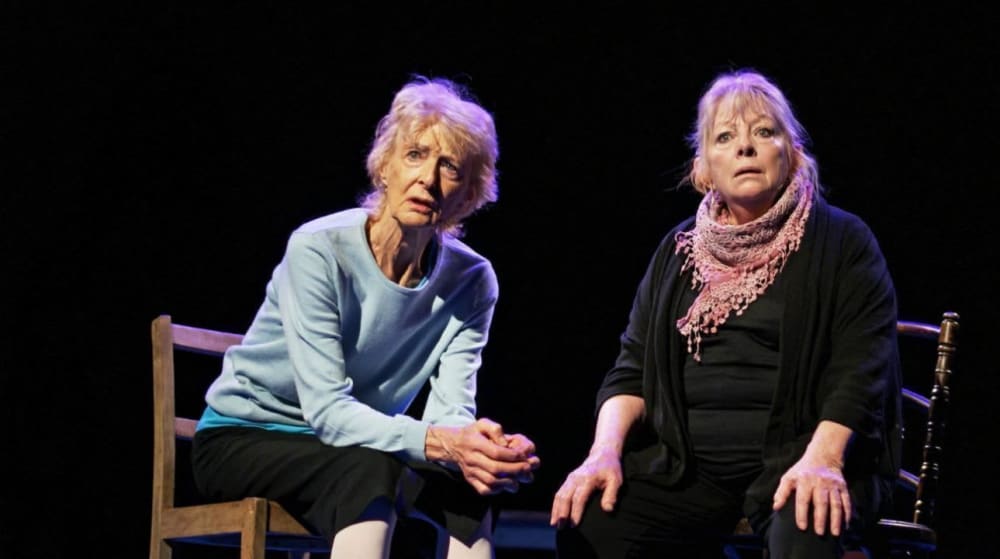 Improvisation has always been part of Improbable's work and when joint Artistic Director Phelim McDermott met a respected older actor no longer confident about learning lines he had the idea of an improvised show performed by very experienced older actors. This is it.
Improvised performance has a long history: it was the basis of the commedia dell arte, is a regular feature of stand-up and comedy gigs and has long been part of actor training and rehearsal practice. It was a regular feature of Brian Way's free workshops at Swiss Cottage back in the 1950s. I wonder if any of the cast of this show attended them?
Most actors have had to ad-lib at some time but creating a whole show from scratch in front of an audience? Not many actors have that experience, but it is what they do here: five actors plus Steven Edis to provide music and sound effects and lighting designer Colin Grenfell (doing his last show at the National at the performance I saw) who are improvising too.
Co-directors Phelim McDermott and Lee Simpson are there too, sometimes offering instructions or suggestions. They have already worked with the cast to give them some experience of improvising not only dialogue but character, situation and story line too; starting from absolutely nothing.
Each performance will be different, each a one-off. There is nothing to stop an actor incorporating material they have already thought of but responses are spontaneous—and sometimes slow as they make decisions about where to take things.
Introducing the performance, Lee Simpson describes it as "five old people making it up as they go along: discovering what it is like to get lost, really lost. It is possible to cock up and then try to see where you are but maybe the best thing is to get even more lost."
At first, the actors are sitting or sleeping on chairs around the perimeter of the stage. It is a bit like most old peoples' homes, nothing happening. There is birdsong. The lights fade up and slowly all five gather centre stage: one old lady with a walking stick, the others holding her hands or touching her shoulders, a group that then disperses.
A director sets a chair, the lights are like sunshine and two actors commence the first scene. Tim Reece asks Anna Calder-Marshall—or rather his character asks hers, whoever they are—if he may sit. Then, breaking an awkward silence, she says, "it's a beautiful day. It's so nice in the churchyard. Did you hear the bells?" Already we have a place and a sense of time.
Phelim McDermott stage whispers across to them, "he's the new vicar." That helps them to get things moving and Anna begins to talk about her mother who is buried there, about a connection. "There was a baby," comes another prompt and soon we have a story of a young love, a child not lost but unknown and now, for the first time, united with her father.
Now where did that come from?
For Lynn Farleigh and Georgine Anderson, a table and chairs are set and they are told it is teatime. Lynn seems to set it in a teashop but Georgine, who offers to pour, may think they are in her house, but her character seems insecure and the scene is too. Prompted, "ask why she's so worried," a story develops of being psychic. The table starts shaking and Tim Reece joins them. Although all props are mimed, there seems to be an effects kit: Phelim puffs smoke round his feet, an instant apparition, and we have a ghost story.
Lynn is placed on her own upstage with the instruction that she is to use the space and come downstage. She finds her way into a monologue about always wanting to have been some unnamed person's bridesmaid. She goes through the motions of the ceremony, scattering rose petals. Georgine approaches, listening, and then makes her presence known. "I wanted you to be my bridesmaid," she says, "but he jilted me." Then we discover they are mother and daughter: another complex story.
Caroline Blakiston and Anna Calder-Marshall are given a situation: a girl coming home late. There's a rule to keep to: no words with 'f' in them. If they are used, you must act the pain that it causes. (The audience notices each instance before the actor realises it.) Caroline sits waiting up and Anna tries to creep in unnoticed but gets caught for a parental dressing down about the company she keeps, the boyfriend who isn't right for her. Anna has become a teenager and one who has been drinking. She's going to be sick (the actress seems to be enjoying this latest invention). It's funny and touching at the same time. As mother sends her off to bed, will she step in the mess she's mimed retching up?
Now the whole company are told they are members of a club meeting for a reunion. As they stage their arrivals, they are told it's called the Angry Club. What will this club be angry about? What unites them? But that's not the tack this takes. The first arrival sets what follows. These are angry people and they start to vent their anger on each other. "This is a reunion. You're pleased to see each other," the directors remind them. This is a case where getting lost becomes even more lost, but, now the anger is channelled, Tim Reece is giving us a version of King Lear in the storm on the heath; with just a fraction of thought time to bring up the right rhyme, he's spouting verse.
So, five different stories conjured up on the moment for the moment. Another performance may produce something entirely different. It's not Ibsen or Shakespeare, Brecht or Stoppard but it is great fun and who knows what could grow from such beginnings? It certainly demonstrates the innate abilities of older actors. It suits some more than others, not all who started as part of this production stayed with it. Spontaneity rather than deep thought is a prime requirement. It suggests that it is easier to improvise humour than tragedy.
Lost Without Words gives the public an opportunity to share something of the creation that goes towards creating theatre. This one-hour performance is a wonderful demonstration of the courage of actors in taking on the risk, accepting the exposure that is an element of all live performance. The five exercises worked this time, though not without wobbles, but what will these fine actors come up with at the next show?
(Phelim McDermott talks briefly about this project in our interview with him last year for the BTG podcast.)
Reviewer: Howard Loxton