Lotte's Journey
Candida Cave
New End Theatre
(2007)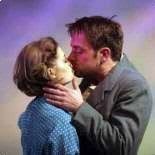 Charlotte Salomon, a Berliner, by the age of 26 had produced over 1,300 gouache paintings. Then and in the early stage of pregnancy, she and her husband Alex are captured and taken to Drancy, then placed on a cattle train to Auschwitz with many other Jews. The date is 7th October, 1943. The journey lasted four days. They reach the death camp a day after the Jewish Day of Atonement, Yom Kippur.
The stage embraces side-by-side a wooden cattle truck and a semi-curved white wall and floor where memory scenes are acted. All actors perform more than one character apart from Selina Chilton. She is Charlotte the girl and the adult artist. She is the character referred to in her paintings as Charlotte Kann, who is no other than Charlotte Salomon.
The journey in the cattle truck conveys a powerful hint of the unimaginable hardship endured by those herded together for their last journey. The journey is interrupted when the characters relive episodes from the heroine's life.
Cave's play is based on over 700 paintings by Charlotte Salomon, an autobiography in pictorial form where characters are given nicknames providing a thinly fictionalised biography rather than a direct autobiography.
Charlotte is portrayed as a sensitive individual whose life is plagued by the suicidal tendencies in her mother's family. At the outset we also learn of her maternal aunt's suicide. Her mother (Valerie Colgan) joins her sister and commits suicide when Charlotte is merely eight years old. Charlotte is told that her mother died of influenza. Many years later she learns the brutal truth from her grandfather, only after her maternal grandmother commits suicide.
An attempt is made to depict the loving relationship between mother and daughter, which seems to have dominated much of Charlotte's very young years. It is rather uncomfortable when the bedtime story is re-enacted. Charlotte's mother's yearning for the life of an angel that inhabits the celestial spheres is just one of windows into the artist's short life.
Her father Dr. Kann (Max Digby) is a dedicated and hardworking breast cancer surgeon. He sets up a new life with a well known singer, Paulinka Bimbam (Elizabeth Elvin) who undertakes the role of a loving step-mother. When maturity hits the young Charlotte she develops an obsessive attraction to her step-mother's music teacher. He is named in her drawings and in the play as Amadeus (Dominic Power).
The issues raised in the play impinge on a world where creativity and destruction co-exist up to the point of eventual annihilation. External evil fuels the inner destructive elements and accelerates the final disaster. On reaching Auschwitz, Cave intimates that Charlotte was ordered to go the left queue in the selection which determined who would live and who would be gassed immediately, but she chose to go to the right which may be alluding to her suicidal tendency.
The subject is a harrowing one and the staging of this drama makes heavy demands emotionally and dramatically. The performances in this production failed properly to engage the acting team with their characters and with one another, apart from Dominic Power and James Pears (Dr. Singsang).
The play delivers an important didactic message, even if it is not brought to life convincingly as a theatrical drama.
Reviewer: Rivka Jacobson