Lotty's War
Giuliano Crispini
Yvonne Arnaud Theatre
Opera House, Manchester
–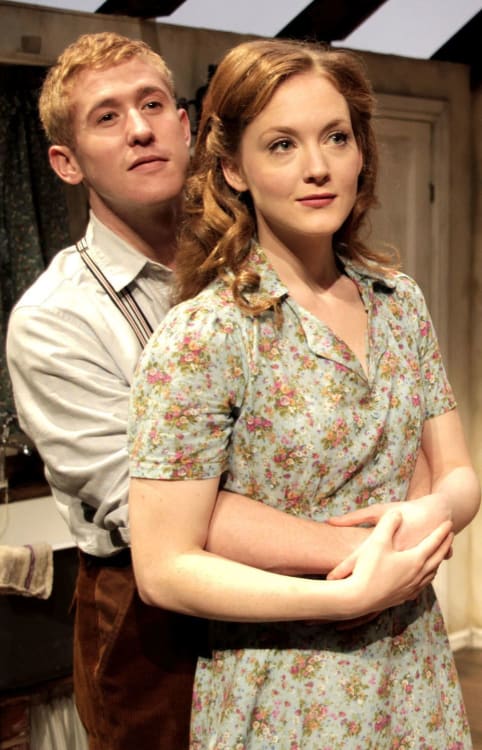 According to Guernsey-born writer Giuliano Crispini, he wants his audiences to come away from this play, set on his home island during the German occupation of the Second World War, asking what they would do if put in the position of Lotty, his play's protagonist.
The eponymous heroine, full name Charlotte Hervé, returns from her father's funeral to have her house requisitioned by General Rolf Bernberg. She tries to resist him, but it quickly becomes clear that she has a choice between acting as his housekeeper or being thrown out of her own house, and possibly risking the life of her friend Ben de Carteret as well.
Ben begins working for the resistance movement with some help from Lotty, who signals to him when it is safe for him to come using her modified wireless set. At breakfast, we see her serve Bernberg in cold silence day after day, until the barriers begin to break down and they begin to converse. However when they go to the cinema together, the islanders start to shun her and someone paints a Churchillian victory "V" on her door.
Just as their growing relationship appears to be like any other, Lotty witnesses Bernberg's cold-blooded treatment of a starving woman who tries to steal their food parcel, which shocks her into contacting Ben and using her new command of German to feed information to the rebels.
The play has, at its heart, a very interesting premise, which comes out strongly in a few powerful scenes, but it never realises anything like its full potential. Some of the structuring and the dramatic techniques are rather clumsy and ineffective. In the programme, Clare Slater is variously described as dramaturge or adaptor, suggesting that she may have been brought in to give the material from Crispini a better shape. There's still a lot of work to do.
The German soldier is portrayed as basically a good man with a job to do, which is clearly how he sees himself. Lotty is immediately hostile towards him because of what he represents but grows to like him as a human being. However Ben and those outside the house never see him as anything more than the commander of a repressive occupying force and Lotty is therefore a collaborator. We never see how she is treated by the islanders after the war ends.
All of this is fine and comes across reasonably well, but there is clearly a much stronger piece of theatre dying to get out of this source material and the fascinating moral question at the heart of the story.
Olivia Hallinan carries the play well in the title role with a convincing portrayal. Mark Letheren gives a beautifully subtle and dignified performance as the General, a man whom you can perfectly understand Lottie falling for. Adam Gillen, however, gives a rather mannered performance as Ben, who is portrayed rather like how an adult actor may play a child but the character is an adult. The actress who plays the starving woman is not named, but I suspect she may be Rosie Akerman, who is understudying the role of Lotty.
Director Bruce Guthrie has produced some strong individual scenes but there are some niggling details that fail to convince. Like how Ben and Lottie are frigntened that dropping a tin lid may wake the General but then have very loud, sometimes shouted conversations that don't stir him, until the one point when it is dramatically convenient. What looks like a large old valve radio doesn't have a power cord, and even the programmes are printed with the wrong theatre name.
That question asked by the playwright, "what would I do", is certainly there and may pass through the minds of the audience, but it comes across as a historic curiosity rather than an essential question at the heart of our humanity.
Reviewer: David Chadderton