Lotty's War
Giuliano Crispini
Lotty's War Ltd in association with Yvonne Arnaud Theatre
Yvonne Arnaud Theatre, Guildford
–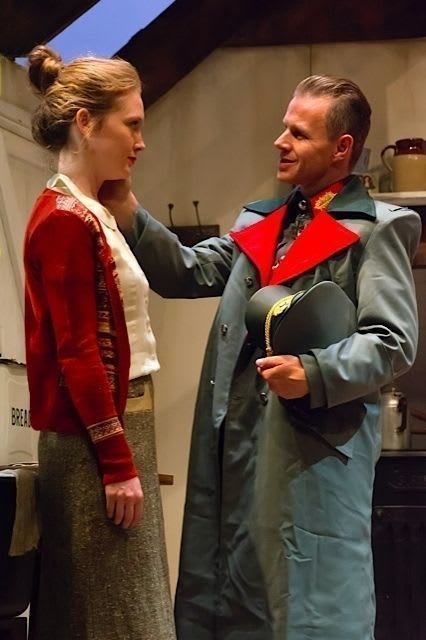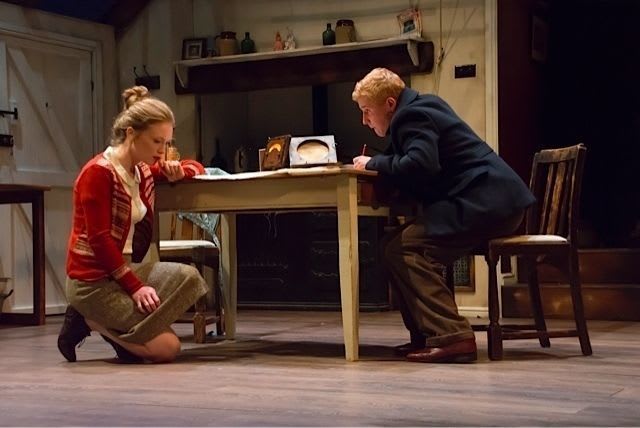 This is one of the most mesmerising, gripping and involving productions I have ever seen, and all the more horrific and fascinating that it is based on truth.
Writer Giuliano Crispini grew up on the island of Guernsey and played happily among the German fortifications there without being aware of the implications of their presence. It was some years later that he started to wonder just how people had coped during the German occupation and began researching the period.
Books didn't tell the full story, but, in the vault of Guernsey's Priaulx library, he discovered an unmarked diary (written on tomato packing paper) which recorded the day-to-day life on the island, and on this he bases his play.
He presents us with a dilemma from the beginning. What does a young girl do on the day of her father's funeral when an autocratic German officer commandeers her house and demands she stay there to wait on him?
Lotty at first refuses furiously, threatens him with a knife and orders him to leave, but realisation dawns that she is helpless. Where would she go, where could she live, and would she be safe anywhere else on the island?
It's a little more difficult to put yourself in the place of a German officer, but he has his problems too. His is the responsibility for keeping law and order on the island and he is following orders from above. He cannot be seen to be sympathetic to the enemy. There has to be a show of strength and command, and the war is not of his choosing.
Day follows day, season follows season, and time drags on as Lotty is confined to the house, but the officer, General Rolf Bernberg, is becoming more polite, more concerned with her thoughts and feelings. Can you blame her for accepting an invitation to visit the cinema with him?
Over the five years of occupation, a relationship gradually builds up between them, even blossoming into love, much to the concern of Lotty's long-time friend Ben de Carteret who had hoped to marry her. His concern too is for her safety and her reputation on the island.
The tension and apprehension are palpable throughout the audience as Ben, risking life and limb, manages to visit the house and the two interpret military information through the transistor Lotty managed to salvage when all radios were destroyed.
Olivia Hallinan bring every ounce of feeling possible into her role as Lotty from the fury when the General first bursts in to resigned acceptance of the situation, gradually relaxing into liking and then beginning to love the officer. A superb performance, well matched by Mark Letheren's brusque general (who might not be quite the man she thought) and with great support from Adam Gillen's Ben.
Bruce Guthrie directs a tight, tension-ridden play, and Victoria Spearing's comprehensive design sets the scene perfectly, although we did wonder why it took so long for someone to bring the washing in.
There are no answers in this play. How could there be? The question is, "what would you have done?"
Touring to Malvern, Eastbourne, Manchester, Cheltenham, Richmond, Billingham, Dartford and Exeter
Reviewer: Sheila Connor