Love and Other Acts of Violence
Cordelia Lynn
Donmar Warehouse
Donmar Warehouse
–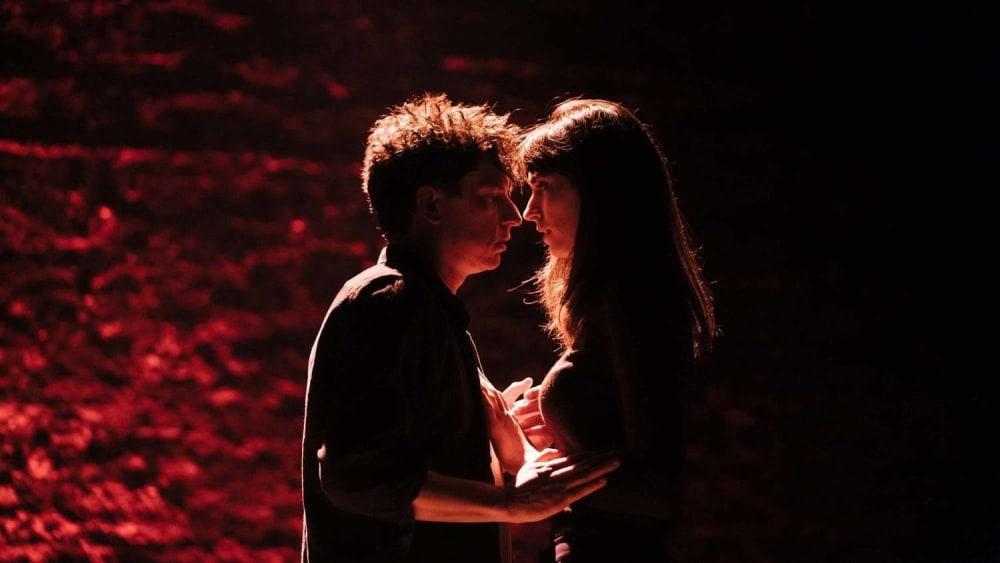 For the first time since COVID forced it to close in March 2020, the Donmar now welcomes audiences back to a fully-seated Warehouse that has been extensively refurbished and does so with a stunning piece of theatre.
Love and Other Acts of Violence begins with a stark simplicity, but director Elayce Ismail combines sound (Richard Hammarton), lighting (Joshua Pharo), design (Basia Bińkowska) and performance to create a particular theatrical vibrancy.
There is a bare wooden platform matched by a wooden canopy overhead with what looks like mountain of coal dust piled against the theatre's back wall when the lights go out then, when they come back on again, we are already in the midst of the action.
Tom Mothersdale plays a man who appears to have gatecrashed a party. He is in the middle of trying to score with a woman (Abigail Weinstock) who turns out to be the hostess. He is continually putting his foot it with his non-stop spouting but there must be something about him that connects, for in a succession of scenes, Cordelia Lynn's play follows their tempestuous relationship.
Each scene is cut short by sound and a momentary blackout before revealing a new situation, the actors magically transposed to a new position. It is a device that gives the production an electric vitality and makes a later long blackout, bombarded with noise and flickering flashes, an even more powerful statement.
They are both academics: he a history lecturer, she a research physicist. He's a left-wing activist, out on the streets in support of underpaid cleaners; she quietly gets on with her lab work, and first it is just incidental that she happens to be Jewish.
He comes on so heavily that she ironically asks, "do you want to move in with me." He takes it as an invitation. He writes a poem that's intimately erotic and dedicates it to her; for him, it's an expression of his love but she is embarrassed, horrified at its explicit intrusion on her privacy.
This is a picture of a volatile relationship: he too passionate to listen, increasingly controlling then physically fighting. The personal rollercoater ride alternating abuse and affection runs parallel to political changes. Right wing reactionary dominance brings instructions to modify teaching, funding affected by non-compliance. Have we been here before? Can you see where things are going?
Love and Other Acts of Violence feels chillingly prescient and Mothersdale and Weinstock (making her professional debut) make a remarkable pairing, very much in the moment, though the play's main message is that we must learn from history. That is emphasised in the play's chilling epilogue which I won't spoil by giving you details except to say there is another fine performance from Richard Katz and some splendid staging.
Reviewer: Howard Loxton