Love for Love
William Congreve
Royal Shakespeare Company
Swan Theatre, Stratford
–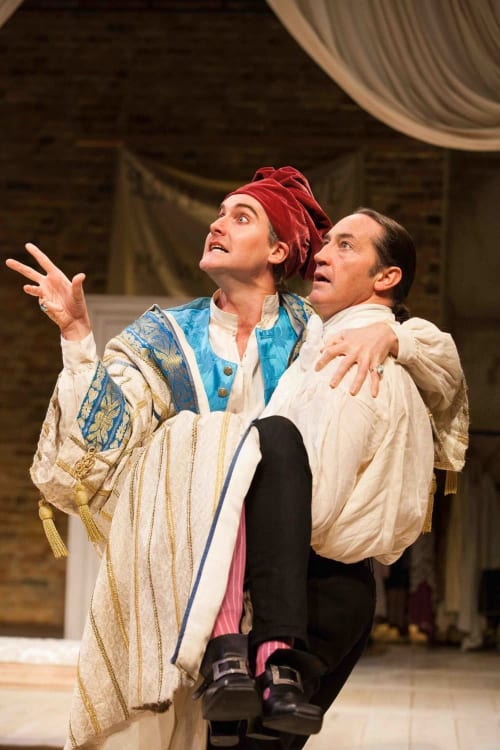 In a list of notable restoration comedies on the free encyclopaedia Wikipedia, William Congreve has no fewer than three entries; not bad for a playwright whose total output was five plays, one of which was a tragedy.
Included on the list is his 1695 offering Love for Love which is typical of the high-brow, sexual comedy of manners in which he specialised.
It was written at a time of major social change, when playwrights recognised that women were an important element of their audience. Congreve took a common 17th century theme of the war of the sexes and developed it through a couple who were already married as well as those trying to capture a spouse.
The plot of Love for Love features Valentine, an extravagant socialite being hounded by his creditors. His spendthrift ways have angered his father Sir Sampson Legend. He offers Valentine £4,000 to pay off his debts only if he will sign over his inheritance to his younger brother Ben.
Valentine is in love with Angelica who has her own fortune and wants to marry him but plays hard to get.
Congreve has written well-rounded characters who are vastly different from one another, all possessing foibles as well as strengths. The cleverness is that many of the characters are drawn towards opposites.
The playwright brings this out in scenes between Valentine and Angelica; the lusty Sir Sampson and his friend Foresight the astrologer, afraid that his wife will have an affair; and Valentine's level-headed friend Scandal and the foppish Tattle whose vanity leads him to believe any woman will fall for his charms.
Selina Cadell, directing her first production for the RSC, appears to take the view that she has to extract the maximum amount of comedy from the script and more besides.
From the moment the cast appears before the start of the play to interact with the audience, it is obvious that Ms Cadell wants everyone to have a good time.
There are farcical elements involving animals, slapstick and visual gags involving the set.
Ms Cadell seems to realise that one joke which entails a cuckoo being heard every time someone mentions the word "mad" goes a bit too far; Valentine produces an imitation gun and shoots the bird dead to great applause.
Some people may think there are times when Love for Love becomes too melodramatic in its endeavours to compensate for passages where comedy takes second place to plot.
Overall, though, this is a fine production. The acting is consistently high, with commendable performances from the whole cast.
Tom Turner is suave and charismatic as Valentine, Robert Cavanah amiable as Scandal, Nicholas Le Prevost engaging as Sir Sampson and Jonathan Broadbent charming as Tattle.
Justine Mitchell is admirable as the standoffish Angelica, Hermione Guildford shines as Mrs Foresight and Jenny Rainsford revels in the role of the country girl Miss Prue.
Tom Piper's simple yet effective set and Rosalind Ebbutt's 17th century costumes with a modern, colourful touch add to the enjoyment.
Love for Love may not now have the attraction it had in Congreve's day but Selina Cadell's production proves it is still good fun and justifies the RSC's decision in reviving it.
Reviewer: Steve Orme