Love from a Stranger
Agatha Christie and Frank Vosper
Fiery Angel and Royal & Dernate, Northampton
Yvonne Arnaud Theatre, Guildford
–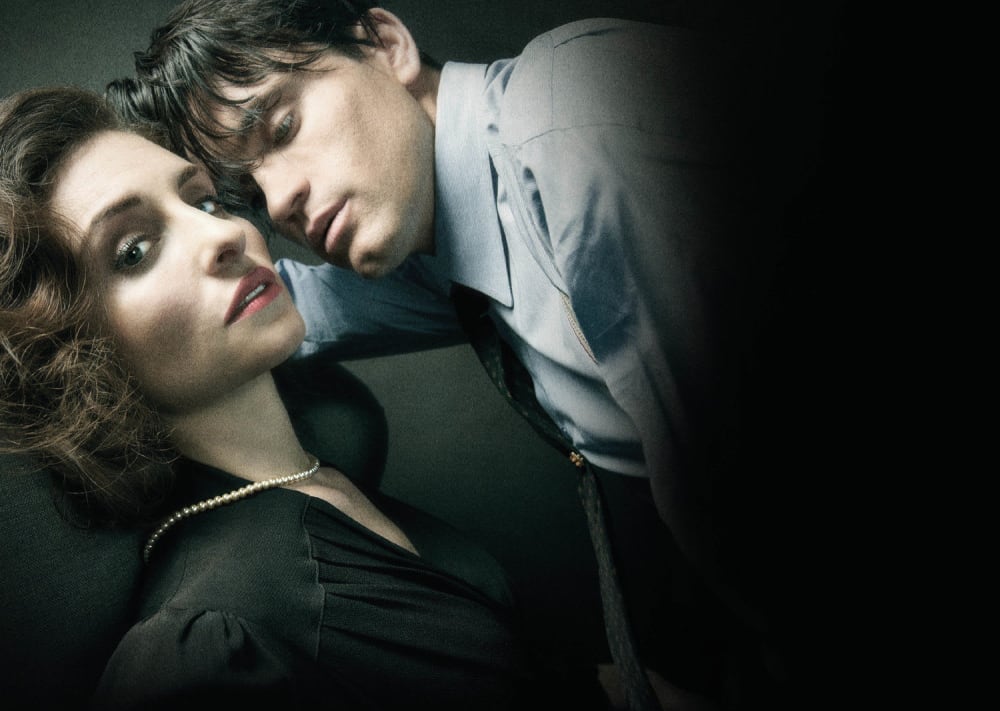 When Agatha Christie's name is in the credits, you expect to see at least one dead body, and in many of her crime thrillers there are several, so this play is a surprise from the start as nothing sinister seems imminent and the setting is more like a sit-com.
Set in 1958 in a unexceptional London flat, where it transpires two friends have won a vast amount of money in a sweepstake, Mavis plans to travel while Cecily longs to travel but is expecting her fiancé of long-standing back from his work in the Sudan and marriage and domesticity seem to be her lot.
The flat is to be rented out; characters and aspirations are set out in the opening scene with Mavis sensible and practical getting on with packing, 'helped' by Nicola Sanderson as a gloriously garrulous and snobbish Aunt Louise who gives a forcible opinion on everything and is looking forward to an exciting and happy reunion between the two 'lovers'.
Cecily (a cool and sophisticated Helen Bradbury), on the other hand, is not so happy, seems to be having doubts about marriage and is not quite sure what love really is. Enter would-be tenant Sam Frensham as handsome and persuasive Bruce, an American with a love of travelling and adventure, and she soon discovers the thrill of romance and excitement as she is swept off her feet abandoning the fiancé.
So nothing out of the ordinary, but there are hints that something sinister is afoot with sound and lighting (Richard Hammarton and Oliver Fenwick) playing an exceptionally important role, and it's strangely unsettling when the whole flat slides sideways.
Scene two finds Cecily and Bruce now married and residing in a remote cottage in West Sussex with no method of communication—not even a phone. Bruce is acting suspiciously, resenting any visitors, not even sure about the gardener Hodgson and his daughter Ethel. Also, what could he be hiding the cellar? We can see where this is going—but we could be wrong!
Performances across the board are exceptional. Lucy Bailey directs a very tight production and each and every actor seems to live their role. There is lots of humour along the way—character driven, not contrived, which makes it all the funnier but it's never allowed to overshadow the creepiness, tension and apprehension which builds up as the play progresses.
Molly Logan, as gauche and anxious-to-please Ethel, brings bursts of spontaneous laughter and there's special mention for Alice Haig in the more serious role of Mavis—a perfectly judged performance of concern and pragmatism and with excellent delivery.
Christie originally wrote this tale in 1934 as a short story and actually wrote a theatre adaptation which was never performed, but when actor Frank Vosper spotted the potential of a great role for himself he 'sharpened up' the script, successfully performed on Broadway then, on his journey back to the UK, mysteriously disappeared from the ship and was found drowned. What would Christie have made of that?
I have to say I've enjoyed many an Agatha Christie play but never one so engrossing, exciting and surprising as this. She is famous for the twists and turns in her plots but this one took me completely by surprise—almost a shock—and the whole provided plenty to talk about later, especially at the thought of today's Internet dating!
Reviewer: Sheila Connor