Love in a Wood
William Wycherley
Jermyn Street Theatre
–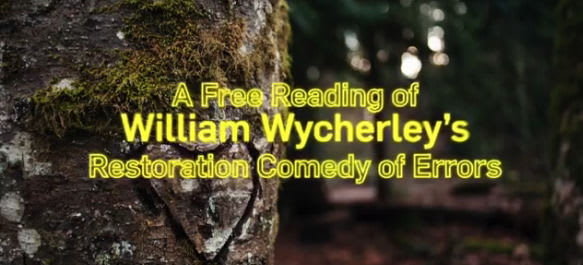 Wycherley's 1671 comedy was his first play. He claimed to have written it when he was only 19 before going up to Oxford. Its tale of randy rakes, monetary marriages and masked encounters in the dark in bosky St James's Park was an instant success but his convoluted interweaving of the scandalous scheming of these seventeenth century opportunists takes some effort to untangle and it is sometimes difficult to keep track of what is going on as the action moves between them.
If the plotting doesn't immediately grip you, some of the characterisations will, especially Linda Bassett as Lady Flippant, a widow looking for a husband and paying Debbie Chasen's splendid Mrs Joiner to help her find one, Paul Chahidi as Mr Dapperwit: his fellows may not have found him funny but the performance is very lively.
A strong cast includes Danny Sapani as a jealous lover who is in hiding, suspicious that his Christina (Nancy Carroll) is dallying with Jo Stone-Fewings's Mr Ranger, who is certainly pursuing her though he's already engaged to lovely Lydia (Lorna Brown).
Nicholas Le Prevost is elderly Sir Simon Addleplot (who for some reason is pretending to be a lowly clerk) who is looking for a rich new wife, Ian Gelder's sleazy Alderman Gripe ogling young girls and Hermione Guilford (who directs and set this all up) is Mrs Crossbite who is ready to marry her daughter Lucy (Shaofan Wilson) to the highest bidder.
All this does have some resolution and the cast bring great energy to the presentation despite some technical problems with the première performance. They will presumably have been corrected for later streaming but this rehearsed reading linking up actors in their own homes reveals some general problems. Impact is noticeably affected by multiple backgrounds and by eyelines. It isn't just a matter of familiarity with the text: some cast members seem to have their scripts better positioned so that they can really communicate even though reading.
This is a straightforward presentation, not a technically sophisticated production, but it is a relatively rare chance to experience this play (last seen in the RSC's Swan theatre in 2001). It has been created to raise money for the Equity Charitable Trust, which is helping support actors and other practitioners in this difficult time when they are unable to work.
Reviewer: Howard Loxton