Love in the time of the Gilmore Girls
Jake Westow Miller
My Mate Dave
Just the Tonic at Mash House
–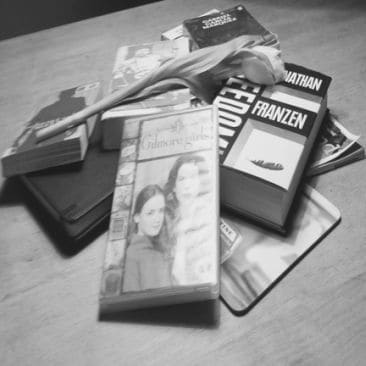 Relationships are tricky things and sometimes no amount of romantic gestures will make them improve...or in some cases even exist.
That's what James (Thomas Wingfield) has discovered during the course of his attempts at relationships, first as an over-enthusiastic schoolboy and then as an idealistic student.
As he sits at his desk recalling his romantic past, he lets the audience into his awkward world and also his love of The Gilmore Girls—superior to Friends in so many ways.
Wingfield creates a likeable James but also a frustrating one. The way the anecdotes are recalled is beautifully cringeworthy and makes makes you want to both sympathise and give the character a good shake at the same time.
There is much to relate to here and Jake Westow Miller's script imagines situations that whilst slightly absurd are also believable. Song lyrics, political references and occasional nods back to The Gilmore Girls keep the production fresh and modern but the plot itself is almost timeless.
An entertaining hour with a refreshing twist, Love in the Time of the Gilmore Girls will make you reflect on the crazy things you've done for love.
Reviewer: Amy Yorston