Love Me Tender
Joe Dipietro, inspired by and featuring the songs of Elvis Presley
Adam Spiegel, Bartner Group LLC and Ambassador Theatre Group
New Victoria Theatre, Woking
–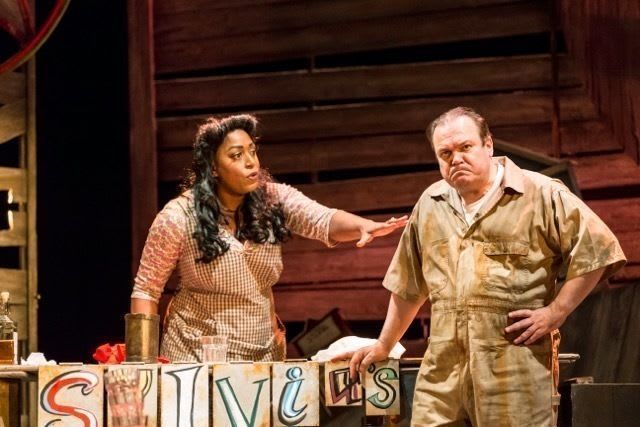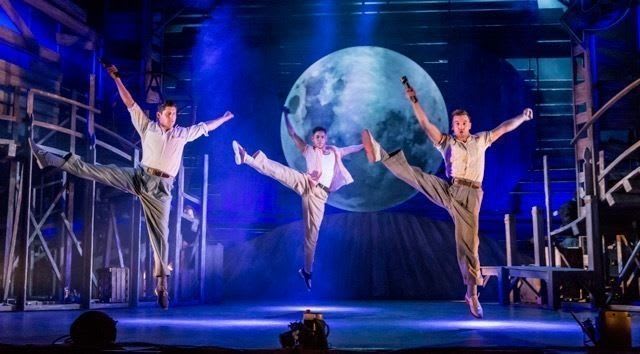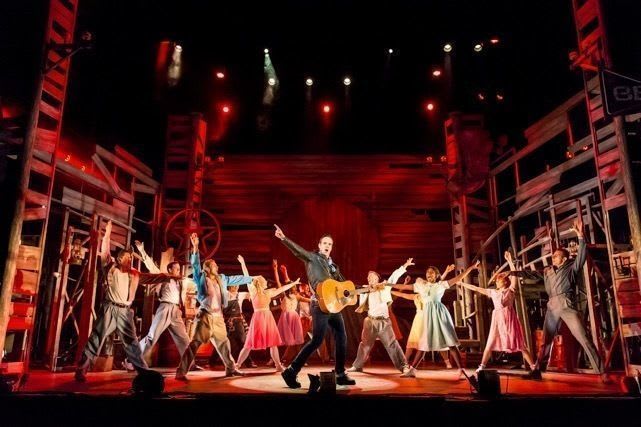 This is more than just a 'juke-box' musical although that would have been enough considering the music.
The story plays around with themes all suggested by the songs themselves. At the beginning I thought I must have wandered into Stomp by mistake as the 'jail' scene has the cast using the bars and anything else to hand to create pulsating rhythms before breaking out into "Jailhouse Rock". Enough to make any party go with a swing and bringing the rock 'n' roll era back with a bang.
There are love stories for both the young and not-so-young. It seems that Shakespearean sonnets are an instant aphrodisiac and, in a very Shakespearean manner, cause the ladylike owner of the museum to fall in love with a young girl disguised as a boy—very Twelfth Night.
On the subject of the museum, I have no idea who played the statue but it must have been a strain holding that post for a whole scene while having a very handy place to hang a hat.
Racial prejudice is lightly touched on and one scene has a red-robed Ku Klux Klan dancing and singing to the tune of ''Devil in Disguise'', a nod to the time and place where Elvis grew up, while an overbearing mother is horrified that her beloved son is dating a black girl.
Teenage rebellion is high on the agenda, the young ones resenting and fighting against bureaucracy and repression, in whatever form. They just want to be free to "Follow that Dream". How rock 'n' roll is that?
Songs come thick and fast (and loud) and parts of the well known lyrics are also used in the dialogue, sometimes to introduce a song but often just relevant to the occasion.
Ben Lewis is not Elvis, and nor does he try to be. This is not an impersonation but rather more the spirit of Elvis and, wisely, there is no white-suited, guitar-playing character, but as Chad he is still the dream of every female around, despite a shortage of the iconic pelvic thrusts.
The only one of these is a demonstration to Shaun Williamson's garage owner Jim, causing great hilarity when he tries an imitation, but this man is much more than a comedian. A great actor and with a glorious baritone, he shares the top billing with Mica Paris who is quoted at saying she is really just playing herself. She does it so well! My favourite song of the many she performs is "There's Always Me".
Great work too from her stage daughter Lorraine (Aretha Ayeh) who is in love with the 'mother's boy' Dean (Felix Mosse) and a very special mention for Laura Tebbutt who does a brilliant job as young garage mechanic Natalie who finally gets her true love. Is it the nerdy Dennis (Mark Anderson) after all? Maybe!
Director Karen Bruce, who is also the choreographer, has provided a delightful show with tremendous fast and furious dancing. It is silly, funny, very loud and with terrific music. What more could you want for great night out?
Reviewer: Sheila Connor