Love's Labour's Lost
William Shakespeare
Northern Broadsides
New Vic Theatre, Newcastle-under-Lyme
–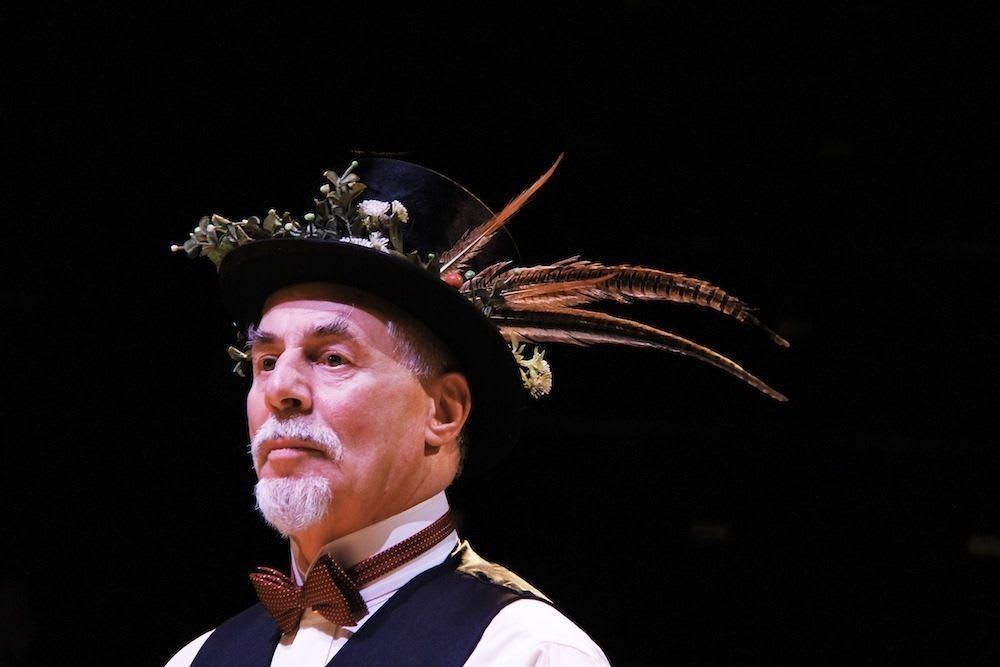 Northern Broadsides is the company that introduced Lenny Henry to Shakespeare. I found his debut of Othello "stunning" when I saw it at the New Vic before it transferred to the West End. Now Northern Broadsides, which is celebrating its 20th anniversary, is putting its unmistakeable stamp on one of Shakespeare's lesser-performed comedies.
Love's Labour's Lost probably doesn't figure high on the list of many people's favourite plays by the Bard. But Northern Broadsides' founder Barrie Rutter, who directs, comes up with a frisky version which bring out all the comedic lines and scenarios that Shakespeare intended.
The plot is fairly thin. The King of Navarre and three companions pledge to concentrate on academics for three years. During that time they'll snub the company of women.
One of them, the sparky and rebellious Berowne, is the only one to voice his opposition, proclaiming "these are barren tasks too hard to keep."
But the Princess of France and—what a surprise—her three attendants are due to pay a visit. All eight meet up and all fall in love. Conveniently, no two men pick the same woman. This isn't, after all, a Greek tragedy.
There are several sub-plots which involve a fair amount of merriment. The women aren't to be left out and are just as adept at taking the mickey out of the men as they are at being the victims of deception.
In some ways it's a strange play: there's a king who doesn't appear particularly regal, at one stage lying prostrate to hide from his friends. The princess is likewise unconventional, getting up to antics which a future queen shouldn't be associated with in public.
Shakespeare, in fact, is showing off in Love's Labour's Lost. It contains some of his most poetic language, some of it in rhyme, and some theatre practitioners steer clear of the play because its intellectual depth makes it difficult for modern audiences to comprehend.
But in Northern Broadsides' hands, Love's Labour's Lost is a delight. Rutter gives us a pacy, inventive version which makes you wonder why this early Shakespeare comedy is often referred to as a problem play.
Matt Conner, who was impressive in Bill Naughton's Spring and Port Wine at the New Vic last year, drives the play along as Berowne. He's described as the "merry madcap lord" who's fond of a jest and he certainly lives up to the billing.
Sophia Hatfield as the Princess is equally animated; Andy Cryer catches the eye as her bag-carrier Boyet who also has a mastery of the English language; and Dean Whatton gives a plucky performance as Moth, the small page with a big heart.
Occasionally the action drags slightly—it's arguable whether Shakespeare's trying to be too clever or if the actors don't quite appreciate the mellifluousness of the language—and the play within a play turns into a cross between morris dancing and Stomp.
On the whole, though, if the laughter and applause on press night at the New Vic are anything to go by, theatregoers around the country will soon be seeing Love's Labour's Lost in an entirely new light.
Touring to Lancaster, Halifax, Scarborough, Buxton, Leeds, Salford and York from 21 February until 5 May.
Reviewer: Steve Orme