Love's Labour's Lost
William Shakespeare
Guildford Shakespeare Company
University of Law Gardens, Guildford
–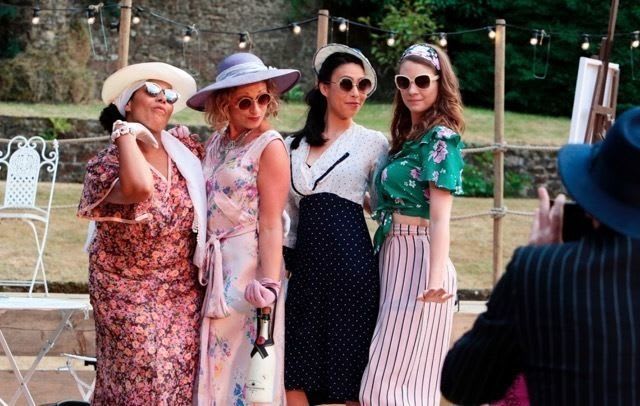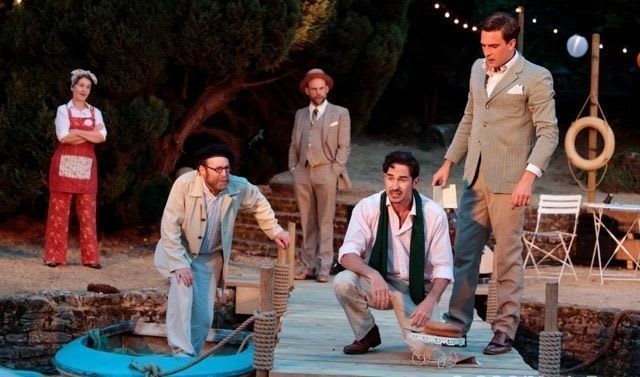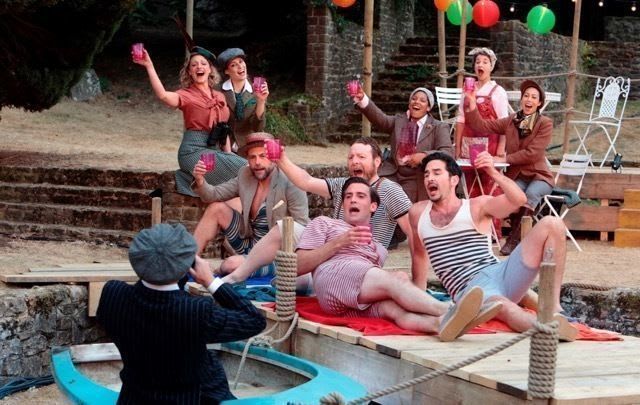 This cannot be an easy play to stage relying, as it does, on vast amounts of dialogue where play on words is the essence of the comedy, yet here are the Guildford Shakespeare Company presenting it (for the second time) and with most of the players taking on two (or even three) roles switching from one to another with such speed and efficiency that it practically takes your breath away.
The costume changes alone would be enough to cope with without the constant switching of demeanour, expression and tone of voice, but this amazing company take it all in their stride.
They have set the play in a small riverside Sussex village and the year is 1939. Four writers, all members of the Bloomsbury Group, have come here for peace and quiet to concentrate on their studies, and to this end they have sworn an oath to avoid all pleasurable pursuits—most especially women.
Berowne, at great length, points out the difficulties of keeping this oath "barren tasks, too hard to keep" and how right he is. The Princess of France and her three friends are due to arrive and they have hardly set foot in the village before all four men fall instantly in love.
The problem now is for each man to avoid letting the others know he is breaking the oath, but with letters and poems written to their respective ladies, and received by the wrong person, there is little hope of keeping their love secret. One of the funniest scenes has the men hiding in turn, with many asides to the audience, to hear another admit his love.
Gavin Fowler is Berowne, reasonable in his arguments against the strictures of the oath, but then passionately voluble in his love of love: "And when Love speaks, the voice of all the gods make heaven drowsy with the harmony." He may not find much harmony with Natasha Rickman's self-confident Rosaline: "How I would make him fawn, and beg, and seek…. That he should be my fool and I his fate!" Word play is important to both these characters and they interact superbly with some of the best lines in the play—cleverly witty and very funny.
Matt Pinches as Don Adriano de Armado makes his appearance quite early in the play, introducing a contrast to the complications of word-play and switching the mood to total comedy, visual and spoken with his ostentatiously flamboyant gestures, a ridiculous Spanish accent, half the words invented and the whole combined with his usual perfect comic timing. I think that is something he was born knowing.
Also ridiculously hilarious are the four writers masquerading as Russian dancers with the intention of wooing their ladies incognito. They do ALMOST manage a Very Dodgy Gopak, but the ladies, also disguised, have the last laugh. "Praise we may afford," says Sarah Gobran's very regally elegant Princess "to any lady that subdues a lord."
Even when at a distance and with her back to the audience, Gobran's diction is clear as a bell, and I was also impressed with her long speech after hearing of the death of her father, her voice almost breaking with emotion.
It's an unusually sad and thoughtful ending to a Shakespeare play as the men leave, presumably off to war, but why not "Face the Music and Dance"—and so they do!
Reviewer: Sheila Connor