Love Song To Lavender Menace
James Ley
Lyceum Theatre Company
Lyceum Theatre, Edinburgh
–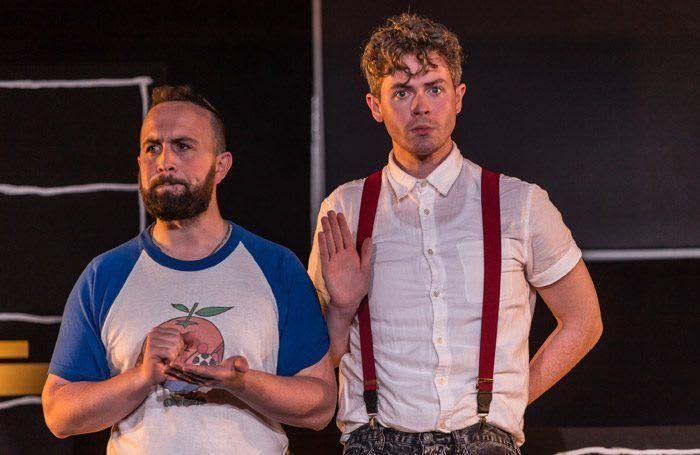 Auntie Nell, Auntie Nell, vada this bona slang billy do to Lavender Menace. (Listen up, go see this great performance, a love letter to Lavendar Menace). James Ley ably captures a snapshot of the lives of queer people in Edinburgh in the nineteen-eighties, including some of the gay man's cant Polari.
Lewis (Pierce Reid) and Glen (Matthew McVarish) are packing up the Broughton Street bookstore, which provided a safe place for queer people during a period significantly less tolerant than today. To honour the bookstore they plan an homage, to perform to the owners as a form of thank you.
This provides a platform for a joyous exploration of queer literature and local queer history, reminiscing about the night club Fire Island on Princes Street, flirtations with Tales of the City author Armstead and sex with burly 'Burgh bobbies. It is a high energy, hilarious romp.
Reid also delivers a more serious talking head as a closeted man plucking up the courage to enter Lavendar Menace while McVarish delights with his cheeky humour and tight sexy costumes. The two are a perfect double act, Reid playing it more serious, younger and more cultured; McVarish meanwhile is more burly, dirty and earthy. Perfect complementary white-face and red-face clowning.
There is time travel too, not just talk of the queer science fiction favourite Doctor Who, but also a visit from a writer from our time. Performance poet Harry Giles pops into the bookshop on this show, making it quite a St Andrews alumni reunion, with stage manager Bee George in the wings and myself. Giles explains to the 'eighties booksellers what has happened in Edinburgh since, a good choice of writer for the cameo as Giles has been involved with several queer arts projects.
Although sadly only a short run at the Lyceum, this production is touring Scotland. Despite its specific setting, the joy of the performance is accessible to anyone. A great way too to learn about queer literature. I left the theatre pleased that I knew several of the titles, but hungry to try the many I hadn't. These pretty faces (attractive men) will turn your oysters up (make you smile).
Reviewer: Seth Ewin