Lovecraft's Monsters

David Crawford
Sweet Grassmarket
–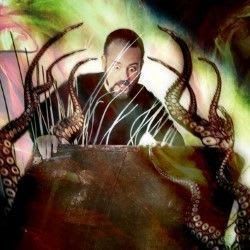 David Crawford returns his biographical show about the famed horror writer H P Lovecraft to the Fringe stage. Much in the similar vein to his play Poe's Last Night, the whole consists of swathes of the artist's work interwoven with tales about his life. However contrastingly, this performance is suffused with a humour that helps to warm the crowd to the somewhat dislikable subject.
Crawford takes it upon himself to invoke the spirit of the Rhode Island writer at ages from boyhood through to his death at the age of 46, scribbling frantically in journals and speaking out loud fragments of the dabblings into the eldritch weird creatures of the night.
Although he begins the piece as himself with a genial and warm nature, that begs the question of whether the entire affair would be better served with Crawford simply telling us about Lovecraft in his own voice and words, as he's a far better host than the prejudiced introvert he's portraying.
It's curious, though, that, despite the performance's relaxed and laid-back feel, the end still comes off as abrupt and clumsy, especially with Crawford having already tested this piece as a free show in previous years at the Fringe.
That's not to say it's a let-down, but it was bewildering to end the adventure into the gloomy unspeakable horrors with little more than a final chuckling shrug, and "that's your H P Lovecraft folks!"
Reviewer: Graeme Strachan