Love, Love, Love
Mike Bartlett
Paines Plough and Drum Theatre production
Nuffield Theatre, Southampton, and touring
(2011)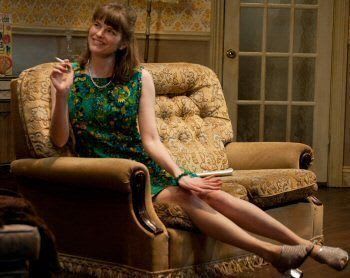 Love has certainly been in the air with the Royal Wedding this week and love, marriage and family are the themes of Mike Bartlett's new play Love, Love, Love.
The play begins in the late swinging sixties, with the music of the Beatles, free love and the heady days of pot smoking students. Oxford undergraduate Kenneth (Ben Addis) is chilling out at his older brother, Henry's, London pad. A sleazy flat littered with the detritus of bachelor living, clothes everywhere, glasses and plates littering the floor. Wearing a dressing gown his life is about getting stoned and drinking heavily.
Henry aged 23, solidly played by Simon Darwen, is the complete antithesis to his brother, stable, and hard working with a preference to classic rather than pop music.
He has arranged a date with the vivacious Sandra, a splendid performance from Lisa Jackson, who quickly decides she prefers the free wheeling Kenneth to his staid brother, especially since they discover they both are students at Oxford.
The play fast forwards to the 1990's to a terraced house outside Reading where Sandra and Kenneth have married and have two teenage children. Rosie Wyatt perfectly captures the petulant, stroppy Rose who is about to celebrate her sixteenth birthday, whilst her younger brother Jamie (James Barrett) is into heavy rock music.
These privately educated adolescents have been thoroughly spoiled with little communication between them and their parents.
There is much tension in the family with dad hitting the whisky and mum swigging wine from the bottle. The dialogue sparkles and the pace is frenetic as Kenneth and Sandra both admit they have been having affairs and, to the consternation of the children, she announces that they are getting divorced. Rose's birthday has ended in an explosion of emotions.
The third act is set in the smart living room of Kenneth's country house, very minimalistic and chic. Designer Lucy Osborne had created rooms that impeccably suggested the transition of the family through the years.
Rose has called the family together to make an announcement whilst Jamie has become emotionally disturbed, living with his father in a fantasy world, drifting aimlessly through life.
Rose is feeling bitter, she is now thirty -seven and her career as a musician is failing and she needs money. She implores her parents to buy her a house. She is desperate to get her hands on some of her inheritance.
The answer from her parents is a resounding no. They have worked hard for forty years to get to where they are and now and they fully intend to enjoy the fruits of their hard labour.
Sandra hoped her children would be heroes but instead they wanted everything on a plate. Slowly Kenneth and Sandra flirt with each other as they dance to the Beatles All You Need is Love completely oblivious to Rose's frustration and tears.
Bartlett's clever and witty exploration of the baby boomer generation questions whether they are to blame for the debt -ridden state we are now in and what will be the consequences for the children and the future generations. Love, Love, Love is thought provoking and absorbing theatre.
"Love, Love, Love" tours to Citizens Glasgow (11- 14 May), Hull Truck Theatre (17 - 21 May), Royal and Derngate Northampton (24 - 28 May), Cambridge Arts Theatre (1 - 4 June), Oxford Playhouse (7 - 11 June).
Reviewer: Robin Strapp