Oh What a Lovely War
Joan Littlewood, Theatre Workshop, Charles Chilton, Gerry Raffles and members of the original cast
Haymarket Theatre, Basingstoke
(2010)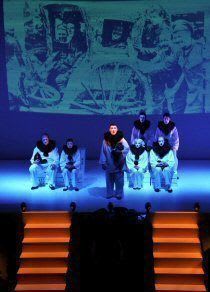 The Haymarket's production of Oh What A Lovely War reminds us of the horrors of warfare and in particular the carnage of World War I. Originally created in 1963 by Joan Littlewood and the Theatre Workshop, this poignant musical play was a great hit at the Theatre Royal Stratford East and was subsequently made into a movie directed by Richard Attenborough with a star-studded cast.
This production directed by Richard Williams uses a talented troupe of eight actor/musicians who chronicle the story of the war on the Western Front through music hall songs and documents of the time.
David Collis's clinically white set design provided the background for the Pierrot costumed company to perform their end of pier entertainment, juxtaposing the well known songs of the time such as It's a long way to Tipperary and Pack up your Troubles with the horrifying reality of war.
The gruesome statistics are portrayed by ticker-tape messages projected onto the backcloth that commented on the losses and ground gained together with photographs of the slaughter of the battles of the Somme and Passchendale, gruesome images.
This was very much an ensemble piece with the actors playing a myriad of characters and with a change of a hat and accent they became British, French and German officers. The bawdy humour of the Irish soldiers who arrived "ahead of themselves" in front of the British forces and are consequently shelled by their own forces, resonates with some of the battles in Afghanistan and so-called "friendly fire".
The vignettes come fast and furious as each scene shows a snapshot of life in the trenches or the greed of the arms suppliers that resulted in the men being killed on their own barbed wire.
The rifle drill under the command of an incomprehensible drill sergeant was hilarious and the unofficial Christmas truce when the soldiers on both sides sing carols and exchange presents and meet in the middle of no man's land was a moving moment as the German soldiers emerge through the fog to make contact with the Tommies.
The enthusiastic cast perfectly captured the genre and it would be invidious to single out one any of this accomplished company.
The final emotional song, And When They Ask Us, sums up the stoical courage of all who fought in the struggle in this "war to end all wars" but, by the end, ten million people had died with twenty million wounded and seven million missing. It's a frightening thought that brought a tear to the eye.
Runs until 23rd October
Reviewer: Robin Strapp