Love in the Mist
Alan Ayckbourn
Stephen Joseph Theatre, Scarborough
(2006)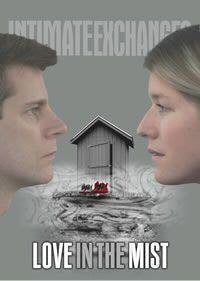 Love in the Mist is one of eight plays in a sequence called Intimate Exchanges, first produced in the early 1980s. A glance at the official Ayckbourn website will show a complex-looking flowchart showing the sequence in all its permutations, including two possible endings for each play, depending on the toss of a coin or, perhaps, how the actors are feeling on the night. Must be fun for stage management too, with all those set changes!
During the first week of August five of the eight plays were running (Affairs in a Tent, Events on a Hotel Terrace, A One Man Protest, A Garden Fete, A Cricket Match), and for most of September six of the eight are running, with Love in the Mist being the latest addition. And, if that wasn't enough to be going on with, each play has several characters played by just two actors, and those same two actors, the versatile and indefatigable Bill Champion and Claudia Elmhirst, are playing all of the parts in all of the plays!
For this particular play, Claudia Elmhirst perhaps has the toughest job, as she is constantly changing character and costume from the upper-middle-class Celia with short, mousy hair, to the gypsy-like, promiscuous Rowena with flowing red hair, to the much younger, working-class Sylvie with long blond hair, shapeless nylon overalls, trainers and West Country accent. These three characterisations are entirely convincing, and a less-clued-up audience member without a programme could very easily miss the fact that the same actress is playing all three parts. Bill Champion does marvellously well too as the insecure and unfulfilled Miles (Rowena's husband and, as the play progresses, Sylvie's lover); for the final scene he transforms into Celia's husband Toby. There is less differentiation here, as Toby is just an older, more tweedy and bumbling version of Miles, and somehow doesn't quite suggest the drunkard type referred to earlier in the play.
The final two plays, A Pageant and A Game of Golf will complete the sequence in 2007 - good luck to the actors for their eight-play marathon!
Reviewer: Gill Stoker