I Love You, You're Perfect, Now Change!
Book and lyrics by Joe Dipeitro, music by Jimmy Roberts
Maple Giant Theatre
Bridewell Theatre
(2011)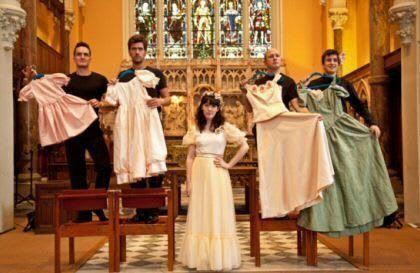 Is it embarrassing to go to the theatre on your own? Like eating alone in a restaurant it is often met with the admiring, but pitying, comment - "Oh, aren't you brave." Just to make it even worse, at the opening night of Maple Giant Theatre's production of I Love You, You're Perfect, Now Change! at the Bridewell Theatre last night, my heart sank as the box office assistant handed over a packet of Love Hearts with a single ticket. Was this going to be another of those nights?
Maple Giant Theatre describes I Love You, You're Perfect, Now Change!, a musical comedy revue that has taken international audiences by storm since 1996, as "a sideways look at contemporary romance". Rebelling against the modern tradition of the happy ending Rom-Com, Joe Dipietro's script intersperses hilariously frank depictions of modern love lives. He represents every eventuality, including new meetings, hopeful newlyweds, amicable separations, bruised divorcees, and willing singles, among other more bizarre scenarios.
But this is not a How To lesson in relationships, nor is it a bitter cry to remain single at all costs. Both cast and audience celebrate each situation on its own terms. Like the bridesmaid who is happy to never be the bride, the lesson is that one should do whatever is true to you and not The Rule Book.
The versatility of the cast goes a long way to achieving the uniqueness of each scenario with eight actors bringing 76 characters to life. Donovan Chapman, JJ Criss and Jonathan Leinmuller shine out, morphing seamlessly from mass murderer to baby-talking new dad, gawky geek to John Travolta stud and golf bore to horny husband.
A perfect example, and a highlight of the show, is the scene entitled Tear Jerk, which lives up to its name in more ways than one. As an unwilling tough guy dragged to a cheesy chick flick gets broken down gradually to join his weeping date, the audience is bent double wiping away tears of laughter. JJ Criss and Laura Edghill take you on a journey of fantastic facial expressions, gurning with downturned pouts and wailing so hard you swear you can see cartoon tears spurting from their eyes. One only stops laughing for long enough to note Edghill's impressive skill of singing with a mouthful of popcorn!
However, from within the hilarity, moments of tenderness leap out to ground you with great humility. A beat of stunned silence is what follows the scene Shouldn't I Be Less In Love With You. In a ballad sung by an old man (JJ Criss) to his longstanding wife about how much he still loves her, the movement on stage stops. Just like the timeless and reliable tartan blanket draped over the couple's knees, comfort, warmth and security are given a touchingly simple tribute.
Moments of intimacy and reality like this are helped by the performance space. Only a very bare set consisting of three black screens stands behind the cast, onto one of which the scene titles are projected. The audience's attention is focused on the characters and their stories, without the set acting as a pair of rose tinted glasses.
But while in storytelling the cast thrive in this exposed environment, musically they sometimes suffer. Without the support of microphones, and with just a piano (Stephen Wiggins - Musical Director) and violin (Luca Kocsmarszky) played from backstage, some singers struggle with tuning and timing. However, Philly Lopez, also the company's vocal coach, uses the raw vocal effect to her advantage in a very movingly vulnerable rendition of I Will Be Loved Tonight.
As a result of the company's personal and humorous approach under Amy Cooke-Hodgson's direction, if at the start there were any audience members feeling apologetic about their romantic status, there soon weren't. Everyone will find a part of themselves in at least one of those 76 love addicts and will laugh with them. You'll feel much better once you can giggle about someone picking up at a funeral. Or old people dating. Or old people picking up dates at funerals.
This is just as well, because in a world weighed down by the high expectations placed on romance by the continued happy endings of Hugh Grant and Julia Roberts, I Love You, You're Perfect, Now Change! brings the audience together for a collective sigh of relief. And as for sitting by myself? It was perfect - I didn't have to share my Love Hearts with anyone!
"I Love You You're Perfect Now Change!" plays at the Bridewell Theatre until 17th September, 2011
Reviewer: Felicity Turner