Love's Labour's Lost
William Shakespeare
Grassroots Shakespeare London
Old Red Lion Theatre
–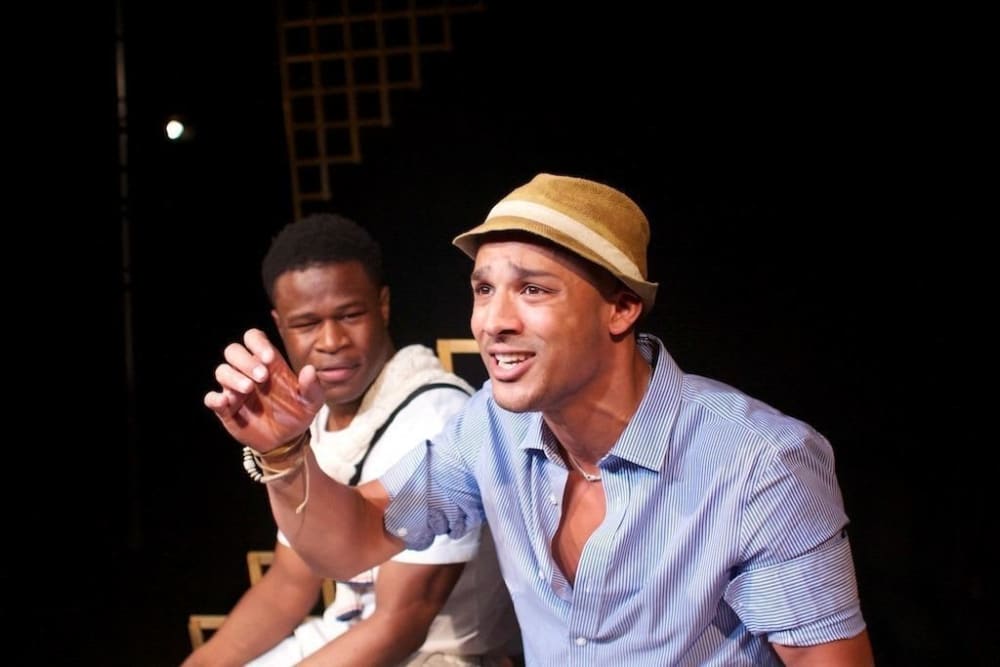 When Shakespeare's comedy of men who swear to devote themselves to study and shun the company of women was first published, it was described as a "conceited comedy" and indeed it is full of conceits.
As well as making fun of the inability of lusty young men to get their minds off girls—the King of Navarre and his three courtiers break their oaths as soon as a French princess and her ladies arrive on a diplomatic mission—there is a gentle send up of the clichés and excesses of lovers' verses, a more savage picture of self-satisfied pedantry, a caricature foreigner and a chunk of country am dram. There is not a great deal of plot but there's some soaring poetry and clever word play.
The staging is simple: a few bits of trellis against black walls, against which the men's sporty white shorts and sweaters contrast sharply as they begin the play with tennis racquet and golf club. They draw out signing of their agreement a little too long in the opening scene but things are soon cracking along.
This is a production driven by getting laughs rather than any director concept. In fact Grassroots Shakespeare calls itself an "original practices" company, which it interprets as not having a director. It also means cross-gender casting and putting a show together rapidly with actors arriving with their own props, costumes and character concept. In fact this show and Romeo and Juliet, with which it runs in repertoire as Grassroots "Summer of Love" season, had only three weeks rehearsal between them. You'd never guess it.
There are some cuts, which avoid an overload of renaissance wordplay. It runs under two hours if you don't count the interval, maintains pace without lingering on language, but most of these young players handle the verse well.
Alec Parkinson's Berowne, affected perhaps by first night nerves, takes things at a rush without giving enough thought to what he is saying but gains authority as the play goes on and he handles the man's big speech about love with energy and style. Lucas Livesey's King Ferdinand and Alex Bedward's Rosaline are both relaxed and articulate in the way they handle verse and her doubling of Andrew Dull, unrecognisable in beanie and boots, may be a first, though we don't know what they did in the 1590s.
Andrew Gruen's Princess may not be as pretty as her dress but she is charming. Her voice carries the hint that she was sent across the seas to learn poise and authority at an Ivy League establishment, which Rosaline is able to pick up on when she pretends to be her. He has a contrasting double as scholarly-gowned Sir Nathaniel.
James Swanton makes a wonderfully grotesque Katherine, one of the princess's ladies, her down-turned grimace like Donald Duck beneath her smart pink hat. It's over-the-top and self-indulgent but the audience loved it and he delivers every line with clarity and sense.
Doubling as pedant Holofernes, his duck turns into a disdainful frog. You can't help laughing but it's more "turn" than characterisation. Robert Nairne as Spaniard Don Adriano de Amado can get away with his outrageous Salvador Dali inspired creation because Shakespeare is guying the foreigner here and he is aided and abetted by Matthew Cavendish's lively Moth.
Denholm Spurr and Jonathan Akingba play the other lords and Nicola Fox, doubles another court lady and country girl Jacquetta with Loren O'Brien as efficient go-between Boyet and Boris Mitkov, packed with energy as Costard (I Ioved the way he turned re-mun-era-ti-on into multi-syllabled Spanish).
Things round off nicely with Moth's rendering, with support from Costard, of Shakespeare's cuckooing final song, drawing applause which is nicely cut through by Don Adriano's final dismissal.
Reviewer: Howard Loxton