Love, Sex and Cider
Paul Charlton
Jacuzzi Theatre Company
Traverse Theatre, Edinburgh, and touring
(2005)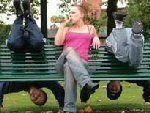 Anyone who thinks the UK is the epitome of class would do well to check out Paul Charlton's play Love, Sex and Cider - a rude awakening awaits them, in the forms of four teens whose goals in life are drinking and shagging, and for whom three weeks is an eternity in which to practice the self-control of waiting for sex.
The play takes place on a park bench (and briefly in the bedroom of one of the characters) over a time period of a few days. There are two boys, Connor (Mark Wood) and Jonny (Paul Charlton) and two girls, Rachel (Rebecca Pullin) and Jill (Caroline Rabbetts). The configurations of relationships that take place within this foursome are quickly exhausted.
The play moves along at a snappy pace, never pausing long enough to let the audience get bored - a definite strength, as I'm not convinced the characters are more than crudely elaborated archetypes (stereotypes?) by which audience members are able to look back on their own youths. On the down side, taking more time with the piece might have allowed Charlton to develop the characters into three-dimensional people.
It's difficult to say which option would have allowed for more exploration of Charlton's intended theme, which he states in the writer's note is to "show teenage Northern culture in the 90's for what it was. The fears, the insecurities, and the choices we felt we were forced into making."
As someone whose young adulthood took place outside the play's scope of park benches and bottles of white lightning (hard cider's nearly impossible to get ahold of in my particular corner of America) I found it hard to identify and sympathize with the characters Charlton portrays. On the other hand, given that its entire three-day run at the Traverse sold out before it even arrived at the theatre, Love, Sex and Cider isn't necessarily suffering from being directed at a specific segment of the population.
Performances are adequate, with Pullin standing out as Rachael because of her shy yet direct demeanor; Pullin also benefits from playing a character who is probably the most three-dimensionally written.
Love, Sex and Cider is a play that will hold great appeal to those who have gone through the rites of passage experienced by its characters, and will be amusing but pointless for those who haven't.
.
Reviewer: Rachel Lynn Brody