Love Shack
Book by Daniel Peak
Sunderland Empire and touring
(2005)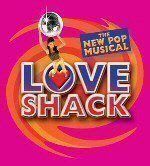 A show with three ex-pop stars in the lead roles: could they cut it live vocally and physically? Those where my thoughts and fears. With all three having spent most of their careers miming, I was interested to see what would come out. What did come out was a well-voiced cast which held the show together.
The show has a very weak and done-so-many-times-before plot, with influence from popular sitcoms such as Friends and Two Pints of Lager and a Packet of Crisps. It follows the relationship between Sam and Joanne, a young couple who decide to take the plunge and get married, much to the horror of Sam's flat mate and drinking buddy Will. The couple quickly move in together, pushing Sam's best friend to one side. But soon things begin to turn sour, so it's up to the couple's best friends to step in and save the day.
All lead roles are played to a very good standard, with a great comic performance from Noel Sullivan (Will). Jon Lee (Sam), coming from his run in Les Miserables, shows he has the looks, the voice and the legs to carry on in musical theatre. Also the very beautiful Faye Tozer (Bonnie) was a pleasure to watch. These performers were surrounded by a strong supporting cast that helped lift this show out of its weak plotted madness.
Sadly one cast member made me want to scratch my eyeballs out so I could no longer see his horrid OTT performances. Adam Linstead (Julian) tries his hardest to make it his own show rather than helping the show and his fellow players to be the best. He is thankfully deprived of his intentions by the others being just too good.
With familiar and popular songs such as It's Raining Men, Time of My Life and of course the shows title song Love Shack, the audience is drawn in to clap and tap along to a fun and often comic show. Sadly you can only go so far with great performances and familiar songs before the weak plot, lack of depth and originality gets to you. Love Shack ultimately made me smile but left me forgetting what the point of the show was soon after leaving. One for the pop fans, but don't go looking for anything more.
Reviewer: Wayne Miller