Love From a Stranger
Based on Philomel Cottage by Agatha Christie and adapted by Louise Page
The Mill at Sonning
(2010)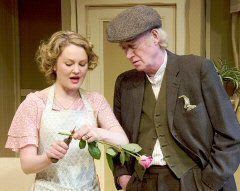 The Mill at Sonning is a delightful theatre, an absolute little gem set on the river with the mill wheel still turning. It provides an appealing theatrical experience that includes a warm welcome with an excellent dinner in the restaurant before watching the play in the intimate auditorium.
Love From a Stranger is based on Agatha Christie's Philomel Cottage and is quite a find since it was last performed in 1935. Louise Page has sympathetically adapted the story whilst retaining the spirit of the original narrative and it's a cracking thriller that keeps you guessing right up to the last moment. Terry Parson's beautifully designed set perfectly captured the charming rural cottage, a picturesque idyll complete with nightingales singing in the garden.
Chloe Newsome (formerly Victoria in Coronation Street) sensitively plays the innocent Alix who is working as a shorthand typist for Atlantic Shipping. She is in a relationship with the rather dowdy yet dependable Dick Windyford (Peter Moreton) and she hopes that they will one day get married, although their lack of finances proves to be a problem.
Good fortune strikes when Alix inherits some money when a distant cousin dies and all seems set for a marriage but Dick is a proud man and wants to provide for his wife and refuses to live off her money.
Alix's friend Fran - a seductive performance by Dido Miles - introduces her to the handsome, charming Gerald, powerfully played by David Michaels, who has a whirlwind romance with Alix and marries her much to Fran's angst since she rather hoped that she could have had a relationship with him. He is obsesesed by his passion for photography and sets up a dark room in the cellar, a theme that ominously runs throughout the play.
But married bliss begins to turns sour as Gerald becomes more domineering and possessive. Alix pieces together fragments of Gerald's past life when he lived in America fuelled by Fran's jealousy and Alix's recurring nightmare of Dick murdering Gerald. All is not well.
Struan Rodger is totally convincing as the amiable old gardener George who finds Gerald's meticulously kept diary in the garden that includes entries for everything he does in his life. It reveals some devastating facts and serious anomalies. Alix is faced with a dilemma should she read the diary? Her decision creates many doubts in her mind and the play takes the audience on a roller coaster ride of intrigue, accusations and eventually murder. The final denouement is both surprising and shocking and I really can't reveal it: you have to go.
The acting throughout was a sheer joy to watch, every character fully rounded and totally believable. Skilfully directed by Andy De La Tour who maintained the tension right to the end in this elegant stylish production beautifully costumed by Jade Kidd it was fully enjoyed by an appreciative audience. Highly recommended.
Runs Wednesday 15th April to Saturday 22nd May
Reviewer: Robin Strapp