Luce
J C Lee
Fuse Theatre
Southwark Playhouse (The Little)
–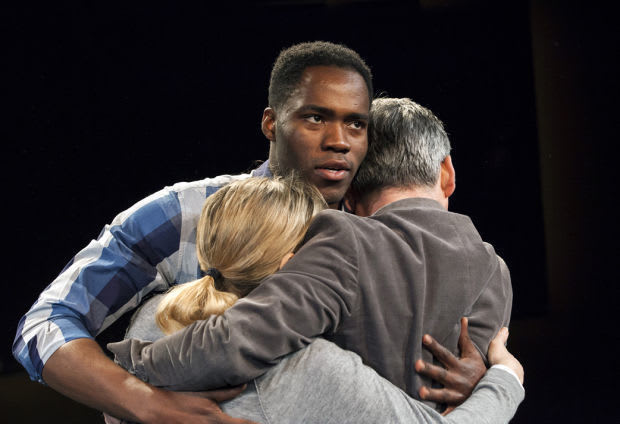 Luce is a 17-year-old black African, adopted by an American white couple when he was seven and a refugee from an unnamed country and conflict. He is a brilliant student, a star of the football team, a shining example of someone making a success of his life despite a traumatic childhood.
Teacher Harriet Carter expects great things of him. She sees him as a role model for all the students. For her, the only black teacher in the high school, his colour gives his achievement an added importance. He is picked out as a person to emulate but that puts him under pressure. He feels he is supposed to be perfect and that's asking too much.
When Luce delivers an essay assignment that takes a stance in praise of a right-wing terrorist, Mrs Carter is horrified. She snoops in his locker and finds there a package of fireworks, illegal fireworks, the chemicals from which could be used in bomb manufacture (as indeed they were by the Boston Marathon bombers, though Luce was first written before that atrocity).
Instead of informing the authorities and risking ruining his future, action she didn't hesitate to take with his pot-smoking student friend, she calls in his adoptive mother, Amy.
Perhaps as an exercise Luce was writing from a viewpoint not his own, even deliberately setting out to surprise and shock: but then why did he have explosive chemicals in his locker? We never discover what he actually wrote, just see Amy's reaction as she reads it (and later her husband Peter's), nor are we given any detail about Luce's background, where he comes from, what experiences he may have endured.
Although the spectre of terrorism is ever-present and adds drama, this isn't a play about political violence or what makes a jihadist. It is a play about trust, about how far a parent will go to support a child, how fear breeds suspicion, how infringement of personal rights affects openness, how praise can become pressure and how biased and subjective we can be in our judgements.
Director Simon Dormandy presents a pared-back production. Just as the script excludes background detail, it is set simply with minimal furniture. Designer Dick Bird puts a dark mirror on the back wall of the black box studio that dimly reflects everything, a reminder perhaps that there could be a different viewpoint, between scenes actors move into the audience. Lighting and sound are used very precisely (Matthew Evered and David Gregory). The simplicity heightens the effect of every gesture adding even more power to one explosive moment.
Although the script doesn't detail the lives of these people, the cast present fully-realised characters, they make you feel that you know much more about them. And there's the rub: beware of assumptions without foundation.
Natasha Gordon's Harriet may seem a dedicated teacher, but what is fuelling her reactions? It's a fiery performance that gives a glimpse of a personal agenda and of the person Luce doesn't like.
Amy is a mother who would back her boy in all things, yet Mel Giedroyce's playing lets us see moments of doubt. What if her suspicions were true? Does she choose to be blind? Does protecting the child for whom she made herself responsible at adoption know no limits?
Her determination to dominate decisions and do things her way is exasperating, not least to her husband Peter. Nigel Whitmey plays him to suggest compliance is normal but he can dig his heels and become more questioning. Their relationship adds both tension and comedy.
Another view of Luce comes from his former girlfriend, Stephanie (Elizabeth Tan), sought out by Amy on Facebook. In a brief scene that sets up more conflicting narratives, there is a disconcerting picture of teenage behaviour and ethics. Maybe Luce isn't such paragon.
Martins Imhangbe makes an excellent Luce. He is good looking and charming, well build and tall enough to intimidate too: you can imagine him playing American football. You can't help but like him but what he doesn't say makes him an enigma. He could be guilelessly innocent or subtly devious. How far is his behaviour a reaction to the pressures of being unwillingly singled out as a role model?
Luce packs a lot into its 90 minutes about parent and child relationships, teacher and pupil, how fear and prejudice affect judgement and that grey area between the whole truth and deliberate deception. It is a play that keeps you guessing and makes you think.
Reviewer: Howard Loxton