Lucia di Lammermoor
Gaetano Donizetti, libretto by Salvadore Cammarano, based on the novel by Sir Walter Scott
Met Opera on Demand
Metropolitan Opera House, New York
From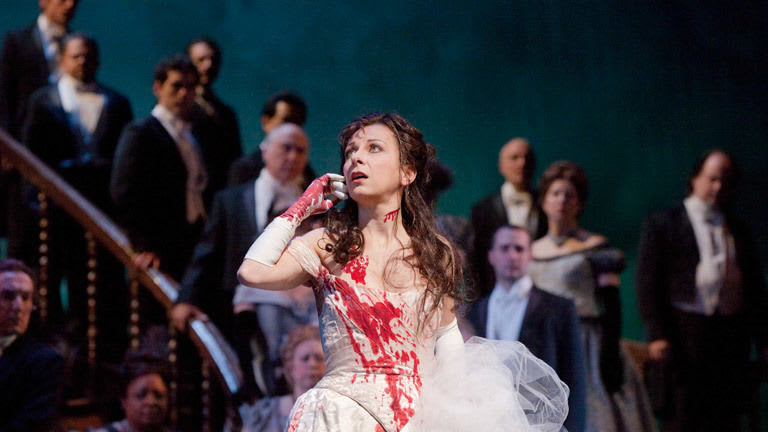 More than 50 operas have been inspired by Sir Walter Scott and none more successfully than Gaetano Donizetti's Lucia di Lammermoor, an adaption of the hugely popular novel Scott had published in 1819.
Donizetti's opera premièred in 1835 in Naples. Many people think it is his finest opera and when you watch this performance, which was seen at The Met in 2011, you can see why. Directed by Mary Zimmerman and conducted by Patrick Summer, the singers and the music grip you from the very start and never let you go. There are so many beautiful melodies. The dramatic energy is relentless.
The story has been updated from 1700 to 1850. Enrico (Ludovic Tezier, excellent) is in serious trouble and only his sister Lucia (Natalie Dessay, excellent) can save the day by marrying and bringing the feud between two households to an end. But there is a major problem. Lucia is already in love and engaged to Edgardo (Joseph Calleja, excellent), whose father Enrico had killed and whose inheritance he had stolen. There is an excellent performance, too, by Kwangchul Youn as the priest.
Heroines going stark screaming mad in white linen had been commonplace on the stage for many centuries. I suspect it was Ophelia who kickstarted the fashion. The most famous mad scene in opera remains Lucia's. She has murdered her husband on their wedding day. Still in her wedding dress, she wipes the dagger on her veil. She is covered in blood. The poor girl thinks she is marrying Edgardo. The role is a showcase for all great bel canto singers. Totally involved in the drama, Dessay's performance delivers far more than dazzling coloratura.
The wedding ceremony, which immediately precedes it, is exciting, too. Edgardo arrives just she has signed the marriage contract and starts hurling the chairs around. Donizetti and a chorus of shocked wedding guests rise to the occasion with a thrilling sound.
From her very first entrance, Dessay establishes Lucia's fragility and vulnerability. She seems to be in mourning for her life. She is pale-faced and haunted. (The spectre she sees is visible to the audience.) You feel she might go over the edge at any moment. Her brother, in the way he rages, clearly has mental problems, too.
If you were seeing the opera for the first time, you might presume the final curtain would be on Lucia's death. Pity any tenor who has to sing an aria immediately after Dessay but that is exactly what Calleja has to do. Think of the pressure. Calleja got an ovation.
Lucia di Lammermoor is Donizetti's masterpiece.
There are a number of ways of tapping into this opera and others at will. The Met Opera On Demand service offers annual ($149.99) and monthly ($14.99) subscriptions as well as a one-off payment ($4.99) for those who have limited time or only want to watch the occasional opera.
Reviewer: Robert Tanitch