Luck Penny
Aisling Foster
Luck Penny Theatre Company
Lion and Unicorn Theatre
–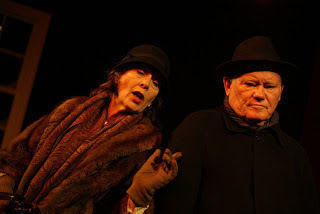 In 1920, Irish Republican Eamon de Valera was in America raising money from supporters when he met a group of Bolsheviks doing the same thing for the Soviets. He was very successful; they were not. De Valera did a deal: some of the Russian crown jewels as security for cash.
When that deal was done, the two sides had much in common. Indeed the 1916 Easter Rising had helped inspire the October Revolution, but by 1948, when this play is set, with de Valera Taoiseach in Ireland and the USSR under Stalin's thumb, things were very different.
The original transaction had been very secret. Dramatist Aislaing Foster (who has already published a novel about these jewels) heard rumours of them when she was a child in Dublin, but it was not until 1993 that the release of official papers made it public. It was therefore with the utmost secrecy that de Valera sent his old friend Dr Brendan Regan of to Moscow to return the jewels and call in the loan.
So, here is Dr Regan waiting, as he has been for hours, in a room in the Kremlin for a Russian government official to do business. The play follows Dr Regan from the Kremlin to the Odessa Hotel where he is staying, his complicity with the concierge Dimitri, his meeting with a fellow traveller English woman visitor called Audrey Francis and the intrusion of Russian student Irma, who all play their part in an intriguing tale that not only paints a picture of hidebound Soviet bureaucracy, KGB surveillance and blinkered tourism and creates some very strong characters but launches into a passionately-felt criticism of politicians who pay lip service to ideals but don't deliver.
Peter Dineen expresses both Dr Regan's frustration and his feeling making him warm-hearted but more aware of the world around him than Sheila Ruskin's Mrs Francis. Mark Straker is sourly hidebound as the Kremlin official; here is a man without a smile, but we see more of Irma and concierge Anton—Holly Morgan and Howard Lee get the chance to reveal the person behind the role the system gives them.
With a snow-encrusted window above a bed on one side of the stage and a portrait of Stalin looking down on the other, the action takes place on a composite set but scene changes, despite some deightfully appropriate music, still slow down Cherry Cookson's otherwise well-paced production that allows her actors to gradually build the audience's involvement to create a very interesting evening.
Luck Penny returns to the Lion and Unicorn on Sundays and Mondays 23 June – 8 July.
Reviewer: Howard Loxton