Lucrezia Borgia
Gaetano Donizetti
Fondazione Teatro Donizetti diBergamo
Released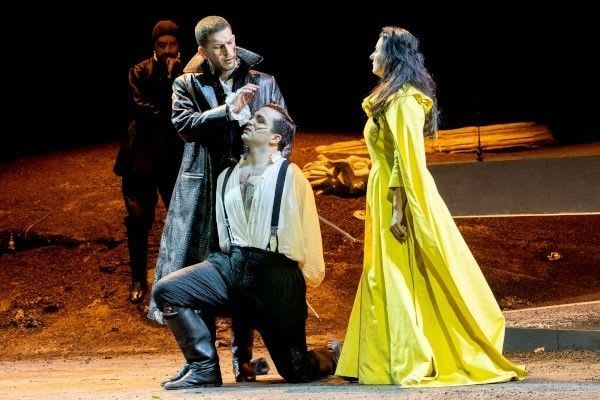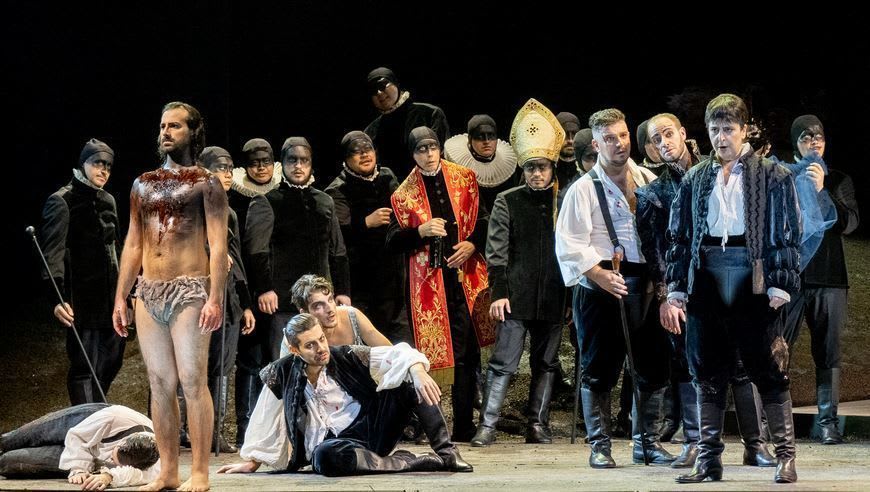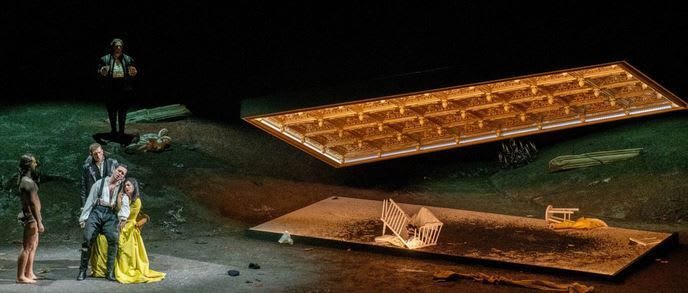 It's always going to be a tough call to have a multi-murderess as a tragic heroine, so it's commendable that this production from the 2019 Donizetti festival in Bergamo should come close to making her a sympathetic figure.
Credit therefore should go to the 32-year-old director Andrea Bernard for his brave attempt to put her into some sort of context, and to Carmela Remigio in the title role for a steadfast dramatic performance. The real triumph however belongs elsewhere, in the appearance of an outstanding young Spanish tenor, Xabier Anduaga, in the role of her son Gennaro.
The plot, a mix of history, rumour and fantasy, concerns the latter, Lucrezia's secret son, who feels drawn to her without knowing who she is. When his associates discover her identity—but not their relationship—they taunt her for killing so many of their brothers. Lucrezia demands that her husband, Duke Alfonso, avenge the insult but discovers too late that Gennaro is among those fated to die of poison as a consequence.
Bernard strings ideas together, which if not amounting to one big idea, contribute toward establishing a background of everyday violence, machismo and male oppression against which Lucrezia's past actions might be measured.
In a mute curtain-raiser, Lucrezia breast-feeds her baby before he is removed by Alexander VI, the randy Pope who was Lucrezia's father and said by his enemies to have fathered her child also. Drunken followers of Gennaro's close friend Orsini are matched in thuggery by those of Alfonso, the former smashing the cradle that has been left on stage. The usually absent Princess Negroni is brought on as a titillating table dancer, Lucrezia is the victim of two attempted rapes and Gennaro shows his contempt for the house of Borgia by urinating on their palace wall.
Not all the director's light-bulb moments come off, such as the introduction of a Christ-like figure who smears future victims with his blood—which distracts from rather than adds to the drama—or Alfonso brandishing a modern golf club.
Remagio, in a gown of a yellow hue, splendidly called Arsenic in my Dulux colour chart, gives an intense, physical performance as Lucrezia, tender toward the son she cannot publicly acknowledge, but with the steeliness to give as good as she gets from bullying husband number four.
There is a steely quality to her voice, also, with a bright edge in the upper register, but her rather monochromatic delivery does not match her interpretive skills as an actress, and she lacks the vocal heft that some might bring to the role. Despite that, one feels the volatile chemistry of her duets with Marko Mimica as Alfonso and particularly with Anduaga, a star of this show and probably many to come.
From the opening song of his upbringing by fishermen, Di pescatore, there is no mistaking his distinctive sound, flawless technique and subtlety of dynamic variation. The voice is honeyed, smooth and with a thrilling top, held so gently in the pianissimo close of his act 2 romanza that the exquisite sound lingered long thereafter.
As for Marco Mimica, it's not just the bloody bruise blood that makes him a threatening presence. His bass has resonance and depth rather than brute power, but he finds many inflections of tone and gesture in a convincing portrayal of an autocratic sadist.
In the trouser role of Orsini, mezzo Varduhi Abrahamyan is somewhat swallowed by the chorus in her opening Nella fatal di Rimini, a number that reminded me in melody and content of a similar history lesson in Il Trovatore. She delivers the more familiar drinking song with gusto, and excels in the fine act two duet with Gennaro, in which her warmth of sound, chesty low to confident higher register, perfectly matched the situation.
That duet, omitted from the original 1833 score when Donizetti revised the work in 1840, is restored here, as the helpful accompanying booklet points out, and helps explain Gennaro's decision to remain in Ferrara, where he is likely to be killed. So too, does the director's decision to suggest a homosexual relationship between the two men—certainly not in the original. That does however somewhat run against Gennaro's attraction to Lucrezia.
The young orchestra, conducted by Riccardo Frizza, responds unobtrusively well to the singers. The chorus is outstanding, both vocally, and in the many individual, naturalistic reactions to what is happening elsewhere on stage.
Reviewer: Colin Davison