Lucy Pearman: Baggage

Monkey Barrel Comedy
–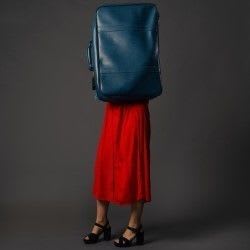 Appearing through the audience stuffed inside a suitcase, Lucy Pearman sets the tone for a balmy hour of silliness, which belies a depth of meaning and purpose.
You see, she is going away, and she needs our help because she is too heavy to get through baggage handling and, no matter what she does, there's still too much stuff. Therefore, the audience must be prepared to roll their sleeves up and get involved in helping her offload any unnecessary items.
However, Lucy's playful generosity never makes us feel too uncomfortable in doing so. In fact, Pearman is such an eager, lovable character that her audience helpers seem more than happy to carry out the increasingly bizarre requests she makes of them.
In turn, her assured stage presence shows that she is ready for anything as she welcomes surprise audience reactions and technical problems with a broad smile on her face. It is this irrepressibly positive outlook and demeaner that just cracks gently enough to suggest something more raw below the surface.
Irreverent and big-hearted, Baggage invites us all to be more courageous, in an uplifting performance that leaves its audience mildly baffled but topped up with humanity—lovely!
Reviewer: Tony Trigwell-Jones