Dancing at Lughnasa
Brian Friel
The Original Theatre Company
The Haymarket, Basingstoke, and touring
(2011)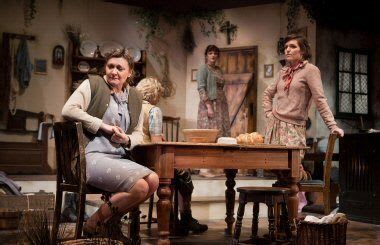 The Original Theatre Company's robust production of Dancing at Lughnasa at The Haymarket Theatre is an absolute gem. Brian Friel's bittersweet masterpiece is set in the village of Ballybeg in Donegal during the halcyon summer days of 1936. Victoria Spearing's lovingly designed set perfectly captured this idyllic rural scene.
This is very much a play about the strife of family life and memories as the adult Michael (Alastair Whatley) returns to the village and narrates the story from his recollections of when he was 7 years old.
The five spinster Mundy sisters eek out a simple living. The eldest, Kate, powerfully performed by Victoria Carling, teaches at the national school and bosses the others in true schoolma'am fashion but little does she know that she may soon loose her job. Patricia Gannon's spirited and cheery Maggie is the perfect foil to Kate's domineering attitude. She's always optimistic as she busies herself with housework.
But this is a family that is breaking down as industrialisation takes over rural life. Two of the sisters hand knit gloves for a pittance but even this meagre livelihood will be lost when a knitting factory opens in Donegal and they will eventually leave their home to seek their luck in London with disastrous results.
The youngest sister, Rose (Bronagh Taggart), is somewhat simple and is looked after by the ever-vigilant Agnes (Mairead Conneely). The whole family become distressed when Rose fails to return on time from picking blueberries and has befriended a boy.
Michael's father ,splendidly played by Paul Westwood, has abandoned his mother, Chris, the delightful and exuberant Siobhan O'Kelly, to further his career as a travelling gramophone salesman. He returns to Ballybeg filled with the ambition to fight in the Spanish Civil War.
The sisters' brother Jack (Daragh O'Malley) has returned from 25 years as a missionary priest in a leper colony in Uganda. He has developed malaria and has lost some of his memory and it is slowly revealed that rather than convert the Africans to Catholicism he went 'native' and started to worship the Pagan gods, a recurring theme in the play. Even the title of the play comes from the Celtic God of the harvest.
Centre stage is the temperamental radio that brings the emerging sounds and music of the outside world to the bustling kitchen and, of course, the dance. And what a dance it is as the sisters abandon their inhibitions, tensions and frustrations as they twirl and stamp like swirling dervishes in an exuberant, passionate and energetic scene, choreographed by Lucie Pankhurst.
Directed with panache by Alastair Whatley and atmospherically lit by Alan Valentine this production was a sheer joy. Not to be missed.
Sheila Connor reviewed this production at Guildford
Reviewer: Robin Strapp