Luisa Miller
Giuseppe Verdi, libretto by Salvatore Cammarano, based on Kabale und Liebe (Intrigue and Love) by Friedrich Schiller
Met on Demand
Metropolitan Opera House, New York
From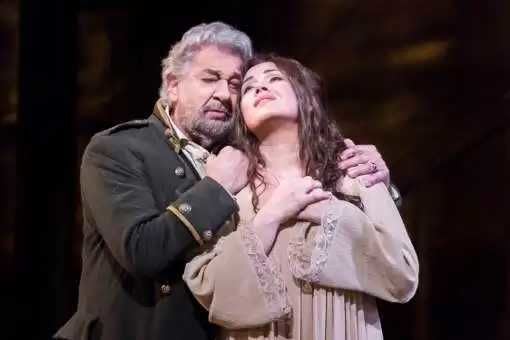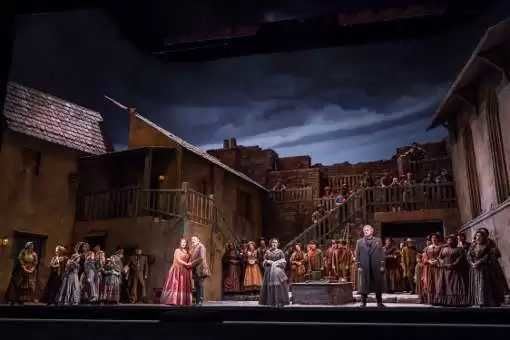 Giuseppe Verdi's Luisa Miller, a major transitional point in his career, premièred in Naples in 1849. Salvatore Camarano's libretto is based on Schiller's 1784 play Kabale und Liebe (Intrigue and Love).
Elijah Moshinsky's production, conducted by Bertrand de Billy, at the Met, New York in 2018, has a superb cast, headed by Sonya Yoncheva and Piotr Beczala, both in thrilling voice. The dramatic intensity is totally gripping right up to the very drawn-out death by poison climax.
Luisa, a village maiden (Sonya Yoncheva), is in love with Rodolfo (Piotr Beczala) and thinks he is a commoner like herself; only to discover he is the son of Count Walter (Alexander Vinogradov), the local feudal lord, and forced to marry a widowed Duchess against his will.
There is a fine scene when Rodolfo tells the Duchess he loves another. "Don't expect pity from a jealous woman," she replies. "Rejected love brings fury."
The Count arrests Luisa and her father. Wurm (Dmitry Belosselskiy), who is employed by the Count, tells her the only way to save her father's life is to write a letter in which she makes it clear she loves Wurm and never loved Rodolfo.
Father-daughter relationships are Verdi's forte. Plácido Domingo (five decades at The Met, during which he sang 18 Verdi roles) brings the gravitas needed for the paternal torment and the paternal love he has for Luisa.
There's excitement when the Count and the odious Wurm realize a murder they committed long ago is going to go public. The most famous single number, a lyrical lament of great beauty, excellently delivered by Beczala after Rodolfo has read Luisa's letter and believes her betrayal to be true, wins the loudest applause.
I enjoyed the performance enormously. I am surprised the opera is not performed more often. Luisa Miller is one of Verdi's best. The melodrama has real force.
There are a number of ways of tapping into this opera and others at will. The Met Opera on Demand service offers annual ($149.99) and monthly ($14.99) subscriptions as well as a one-off payment ($4.99) for those who have limited time or only want to watch the occasional opera.
Reviewer: Robert Tanitch