Lulu - A Murder Ballad
Martin Jacques
The Tiger Lillies with Opera North Projects, West Yorkshire Playhouse and Warwick Arts Centre
Contact Theatre, Manchester
–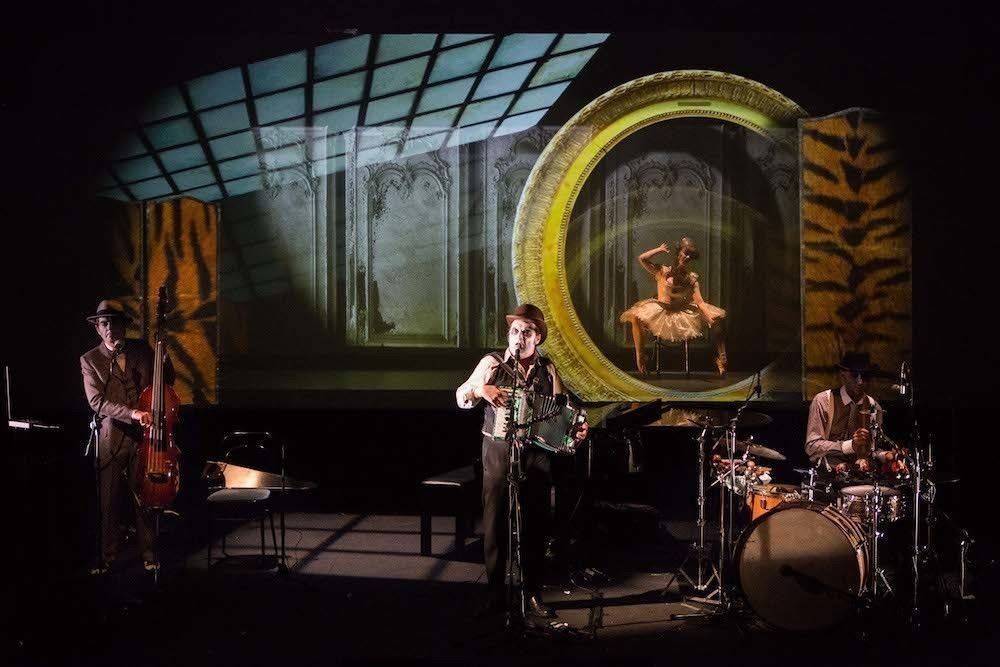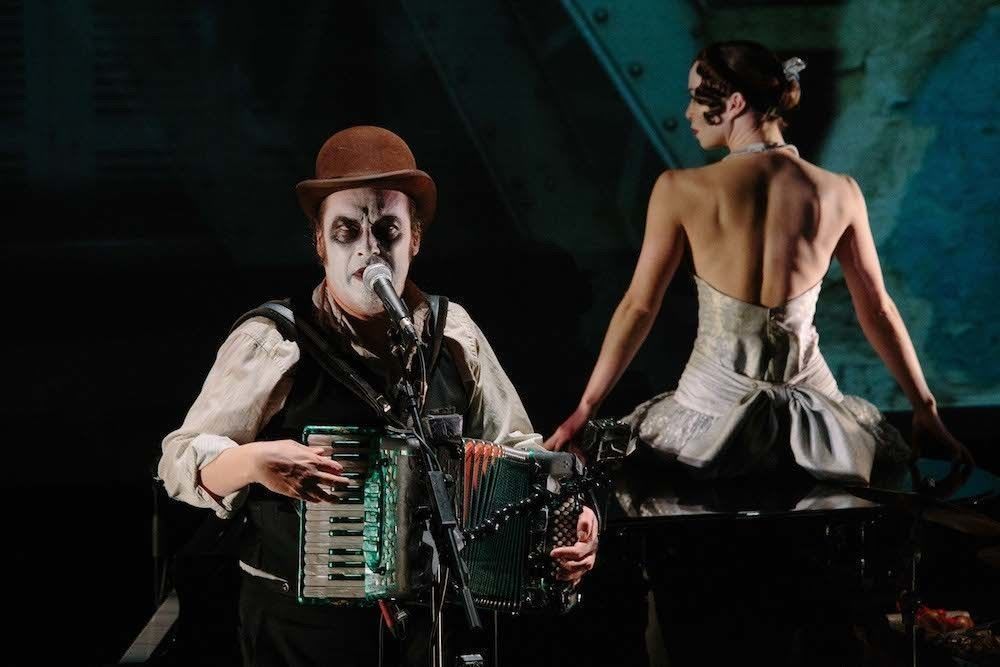 The Tiger Lillies sing songs about sex, death, murder, evisceration, prostitution, perversion and depravity. Wedekind's Lulu embodies all of those subjects in both the six- or seven-hour play and its eponymous heroine—she even dies in the hands of Jack the Ripper in Victorian London—so it would seem, on the surface, an ideal marriage.
This argument is further strengthened by the episodic nature of the play—Wedekind was a major influence on, and friend to, Brecht—which lends itself quite well to a song cycle adaptation, especially in the Lillies' style which is strongly influenced by Kurt Weill and Berlin cabaret.
In Mark Holthusen's production, the band occupies the front of the stage and performs just as in one of its concerts. Behind them and a false proscenium arch, Laura Caldow silently performs the role of Lulu surrounded by projected scenery.
Jacques's songs are familiar territory for the band in terms of theme and style, ranging from adolescent revelry in sex and horror to haunting ballads, all musically wonderful even if you find the explicit lyrics, often contrived and distorted to force the rhymes, hard to take. Of course Jacques's familiar falsetto appears regularly, but we hear more than usual of his very deep and sinister singing voice as well, which he also uses when he occasionally speaks in the role of Lulu's "Papa", her first pimp.
The most impressive element of this production is the projected scenery, designed by director Molthusen. These beautifully-designed images are projected onto multiple levels of screen, gauze and proscenium to give amazing depth and are so clear that sometimes I was wondering whether this was actual solid scenery. The effect is enhanced by images sliding in from the sides or above just as real scenery would rather than using video effects. With Caldow dancing in the middle of all of this, the visual effect is stunning.
If you're a fan of the Tiger Lillies, you won't get the old classics or a chance to shout out requests as in the concerts, but you basically get a Tiger Lillies concert with the type of songs that epitomise their style. The problem—and this may possibly have been partly due to the attitude of the audience on press night—is that it is lacking their usual sense of fun. In front of a respectful theatre audience not wanting to miss story links between songs (there aren't any) there wasn't even applause until the end of each act.
Even for an episodic piece like this one, each episode has a tale to tell, but it takes some concentration to work out the plot from Jacques's lyrics and the visual imagery and I often found my mind wandering. While I could certainly get wrapped up in the music and the visuals, I couldn't tell you in any detail what happened to Lulu.
The production is slick with excellent lighting and sound as well as the projections, but, as always with the Tiger Lillies, it certainly isn't for everyone, particularly if you are easily offended or looking for a traditional theatrical narrative.
Reviewer: David Chadderton