Lulu
Alban Berg
Met Opera on Demand
Metropolitan Opera, New York
From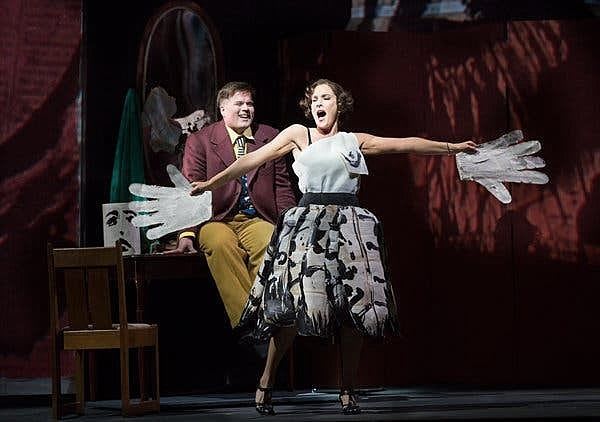 Berg's Wozzeck, premièred in 1929, is one of the greatest operatic works of the 20th century and his other opera Lulu, written a few years later, is even better. It's certainly longer (3 hours 20 minutes against a mere 100 minutes for the earlier work) although Berg himself only finished the first two acts and it had to wait until 1979 before the full three-act version, as realised by Friedrich Cerha, was seen on the stage.
Berg points the way towards much of what was written in the second half of the century and the early 21st, much more so than say Richard Strauss whose tradition was arguably only carried on by composers like Benjamin Britten. Wozzeck and Lulu certainly sound as though they could have been written at any time in the last 100 years up until the present day. If only contemporary composers could learn from Berg's vocal writing, which never sounds arbitrary or at odds with the orchestral scoring, as that of so many later works does.
One of the glories of the Met's current streamed productions, William Kentridge's brilliant expressionistic staging of Lulu from 2015 (seen also at English National Opera the following year) is an absolutely riveting watch.
One might expect a production by a visual artist to be good to look at, and this is one of the best-designed opera I've ever seen, but what's extraordinary too is his direction of the singers, who all give superlative performances. Most of them, with the exception of Susan Graham as the Countess Geschwitz who is playing the role for the first time, have all done it before (some with this production in Amsterdam) and are steeped in the lives of their characters.
In particular, Marlis Petersen as Lulu is here playing the part in her 10th production over an 18-year period. It's hardly surprising then that she inhabits the role so completely. Baritones Johan Reuter as Dr Schön/Jack the Ripper, Franz Grundheber as Schigolch and Martin Winkler as The Acrobat, a trio of tenors (Daniel Brenna as Alwa, Paul Groves as The Painter and Alan Oke in multiple roles) and Elizabeth DeShong as The Schoolboy all give terrific, focused performances.
With a libretto by Berg himself, the opera is based on Wedekind's two Lulu plays (Earth Spirit and Pandora's Box) and charts the train-crash journey of the eponymous character from rich widow to murder victim, sticking fairly closely to Wedekind's original scenarios.
The designs, with Kentridge's own artwork plus projections (Catherine Meyburgh), sets (Sabine Theunissen), costumes (Greta Goiris) and lights (Urs Schönebaum), make an immeasurable contribution to the success of the production. Drawings, crude animations and live footage flit across the stage throughout and often dwarf the performers but Berg's writing is big and intense enough to match the visual onslaught.
Lothar Koenigs's conducting is stupendous and this is a perfect melding of music and drama that can't be recommended highly enough.
In case you haven't tuned into it yet, the Met's web site is streaming a nightly opera for free, and it is available until 6:30PM EDT the following day. After that, there are a number of ways of tapping into this opera and others at will. The Met Opera On Demand service offers annual ($149.99) and monthly ($14.99) subscriptions as well as a one-off payment ($4.99) for those who have limited time or only want to watch the occasional opera.
Reviewer: Simon Thomas