Lunch / The Bow of Ulysses
Steve Berkoff
Jimmy Jewell
Trafalgar Studios 2
–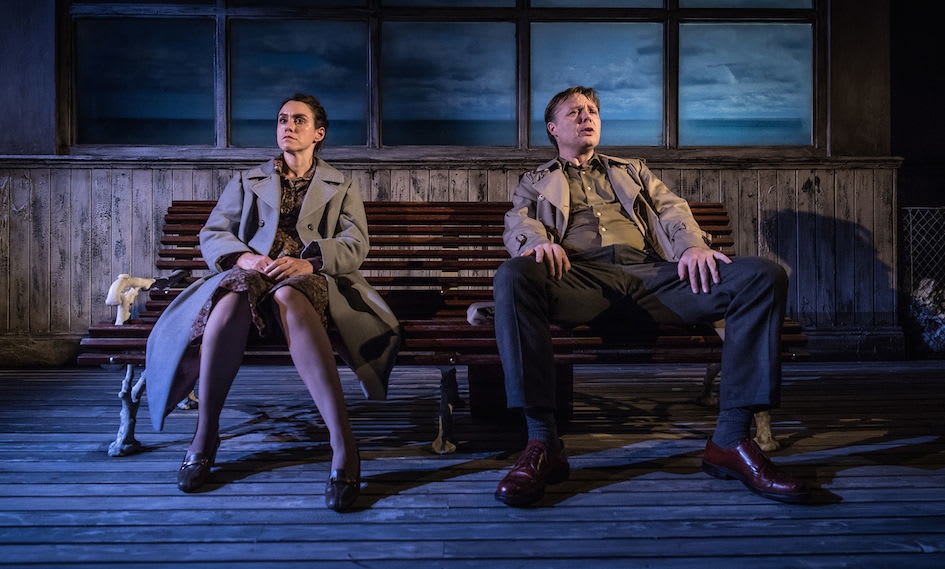 Two short plays, written 20 years apart and set 20 years between them, are here played one after the other, 90 minutes without an interval. There are just two characters.
On a seaside pier, a woman is waiting on a bench in a shelter with peeling paintwork, drinking the last drops from her polystyrene cup, paper that probably held fish and chips beside her. She runs her tongue around her mouth and sucks her cheeks in. She is losing patience but, though she shows some agitation, the sea behind her is calm and tranquil, the sun is shining.
The man who turns up, besuited with a brown attaché case, isn't someone she is expecting, they are strangers, but he's clocked her. With exaggerated pantomime, he lets the audience know his lustful feelings. Open-mouthed, pop-eyed, he sighs; she sighs too, he tries to speak but it comes out as a wail. At last, he gains control enough to begin a banal chat about weather. They introduce themselves: he's Tom and she's Mary.
He sells space but not for ordinary press advertising space, a place for self-promotion in a book that he will then again sell to the same people. Later, his obsession will be with more intimate spaces. She's a housewife, tells him she has a husband and responds to his increasingly erotic attentions coldly; but then…
In a production well-matched to Berkoff's writing, director Nigel Harman asks his actors to switch in an instant from naturalism to stylisation. They do it with no need for transition and handle it beautifully. Though Emily Bruni as the Woman keeps her calm most of the time, Shaun Dooley's man adopts melodramatic gestures, poses of eighteenth century extravagance, strangely crosses his legs in the air before sitting down.
He hates his life with men wheezing behind desks in a dusty office. There is a positive explosion of anger, then somehow she's not managed to escape him. As they lie hidden by the bench, there's an intervention. This montage of anger, lust and frustration is parodied in Punch and Judy before he pulls up his trousers.
There is nothing very original in this contrast between randy man and reticent woman but Berkoff loves language and their dialogue is a mixture of wonderful worlds and surprising metaphor, often comic, sometimes deliberately ugly.
What could be a curtain call for the first play becomes a transition as she helps him into an overcoat, while he simply throws hers at her, and time jumps two decades of living together. The Bow of Ulysses rejoins them, aged twenty years older (and they do it with no help from make-up), back on the same bench.
Now it is not so much conversation as monologue; there's little place for humour. While thoughts are savage, the action is restrained, almost static. Now it is all resentment and recrimination. "You took the best years of my life," is the dissatisfied theme now.
He says, "you fed on my blood," that he's been left to rot or like "an old aspidistra, gathering dust," and still sexually frustrated. She states unequivocally, "I saved your life," tells him "like an ostritch you buried your dick," but she wasn't satisfied.
This bleak picture of marriage offers little illumination but, put together, these plays gain added resonance and they provide a great opportunity for the actors. In two beautifully controlled performances, Emily Bruni and Shaun Dooley do Berkoff proud.
Reviewer: Howard Loxton