Lysistrata
Aristophanes, adapted by David Stuttard
aod
Shaw Theatre and touring
(2010)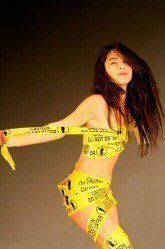 Fanny and Dick are the kind of names you would expect to hear in an Enid Blyton novel rather than a Greek classic, but David Stuttard's translation of Lysistrata is far from traditional. Aristophanes' original is full of references to obscure local personalities and observations about everyday life, undoubtedly hilarious to Athenians in the fifth century BC, but meaningless to audiences today. Rather than providing a literal translation of these jokes, Stuttard replaces them with references that modern English audiences will understand. The result is an Athens inhabited by chavs, pensioners and yummy mummies, where even the plays heroine and namesake Lysistrata goes by the anglicised Lucy.
This approach successfully highlights the crude humour used in the play. Within minutes of the curtains opening the c word is used, to the delight of the large number of school students in attendance. Unfortunately the level of sophistication fails to progress much beyond this level. This may be an accurate representation of Athenian comedy from that period, but Mitch Mitchelson's direction lacks the fast pacing needed to keep an audience engaged through an hour and a half of sex jokes and slapstick.
In the play Lucy (Tamsin Shasha) rallies women throughout Greece to deny sex to their husbands in protest against the Peloponnesian War, hoping it will bring about a speedy declaration of peace. This is a difficult task for Aristophanes' sex crazed women, but, sick of seeing their sons sent to fight, the women manage to overcome their rampant desires. Modern adaptations of Lysistrata often focus on the play's pacifist message or take a feminist approach to a story with such a strong female protagonist. aod's production is far more absorbed by the gratuitous sexual references, although there is a slight attempt to refer the play back to modern British conflicts when Shasha places a red poppy on her lapel during the final moments of the play.
Some scenes do hit the comedy target. Dick (Kieran Garland) returning home to his wife Fanny (Kali Hughes) with a farcically oversized erection is a highlight. The combination of the visual gag of the offending appendage and Fanny's witty retorts to his advances had the audience in stitches. Likewise Lindsay Sharman displayed excellent comic timing as an old Athenian woman. However the laughs are not enough to sustain the play and the crudeness of the characters does little to endear them to the audience. aod's Lysistrata clearly demonstrates the overtly crass and sexual nature of Aristophanes' humour but does little to justify its relevance today.
Touring to Queen's Hall Theatre, Cranbrook, 10 Nov; Salisbury Arts Centre, Salisbury, 11 Nov; The Lowry, Salford, Nov 15; Rose Theatre, Edge Hill University, Nov 16; Queen's Hall Arts Centre, Hexham, Nov 18; Guildhall Arts Centre, Grantham, Nov 19; Friesland Performing Arts Centre, Notts, Nov 22; Canolfan Celfyddydau Aberystwyth, Nov 23; Arena Theatre, Wolverhampton, Nov 24 & 25 and The Old Town Hall Theatre, Hemel Hempstead, Nov 26.
Reviewer: Iain James Finlayson