Macbeth: a MiND tormented
William Shakespeare
The Ceridwen Theatre Company
Cheltenham Everyman Theatre Studio
–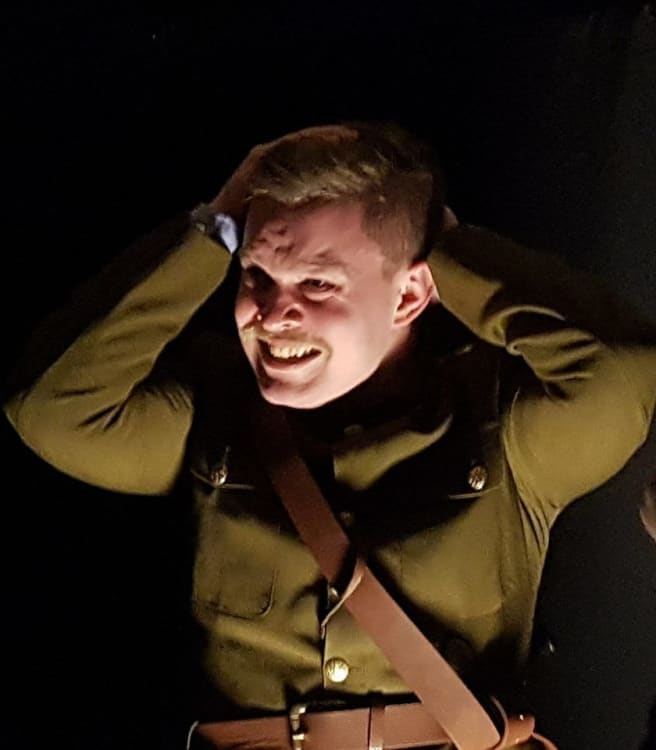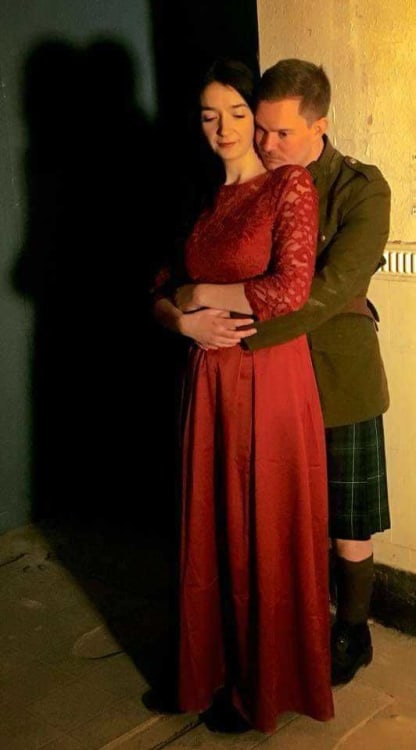 Very rarely have I acted as a stage door "Judy", waiting for a cast and director to give them my personal congratulations on a magnificent performance, but this was one of the productions that I did.
A young, but very talented and accomplished cast made this an unforgettable performance of Shakespeare's Scottish play superbly directed by Vivien Jones. To say this production was innovative is an understatement with the three "Weïrd Sisters" as WWI soldiers singing their lines to one of the most popular tunes, composed by Jack Judge, sung by soldiers on the way to the Western Front during the summer 1914—"It's a Long Way to Tipperary" and the opening and final scenes in an army hospital.
The Great War has been raging for 4 years and Macbeth is beginning to unravel. The guns have taken his peace, ravaged his mind and the dead hath murdered his sleep. An ominous rumble of distant mortars and hat stands with Tommy helmets set the period as the audience take their seats.
John Faulds gives a powerful performance as Macbeth, kilted and with a Scottish accent that doesn't falter and he easily flits between frenzied action, consuming guilt, pessimism and reckless daring. Is Macbeth really this brave soldier and ambitious evil man, or just goaded, belittled and coerced by his wife Lady Macbeth, who is skilfully, convincingly and adroitly played by Helena Devereux, to commit murder or is this all in the delusional mind of a soldier suffering from shellshock?
With a change of cap and a switching of accent, Oliver Byng effortlessly moves from Doctor to Banquo, Malcolm and Ross, Macduff's young son. It took a couple of changes to twig this, so smoothly did he change characters. Though this is a tragedy, Gemma Mann gives the drunken porter just the right amount of humour to briefly lighten the play; her Lady Macduff is kind and handled sympathetically; her "soldier witch" and the murderous ruffian played with bluster to the terrified Seyton, Macbeth's servant, delivering news of the English army's approach and Great Birnam wood is on the move.
John Cooper-Evans too handles changing between his characters (Macduff, Duncan, and soldiers) excellently. There is a deeply touching scene as Macduff learns of his family's slaughter and the dagger fight between Macduff and Macbeth is well-choreographed and performed. Cooper-Evans's Duncan is regal and generously benevolent.
In this short run at the Everyman Theatre Studio, you only have until Saturday to see this impressive production by the Ceridwen Theatre Company.
Reviewer: Judith Wordsworth