Macbeth
William Shakespeare
Tara Arts
Arts Depot
–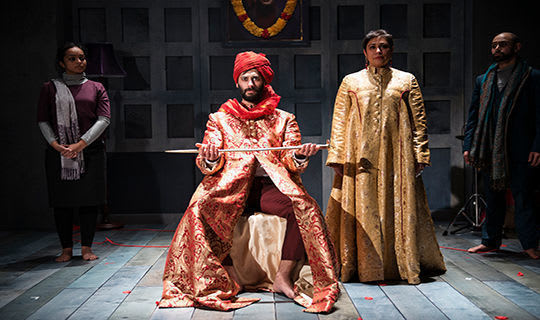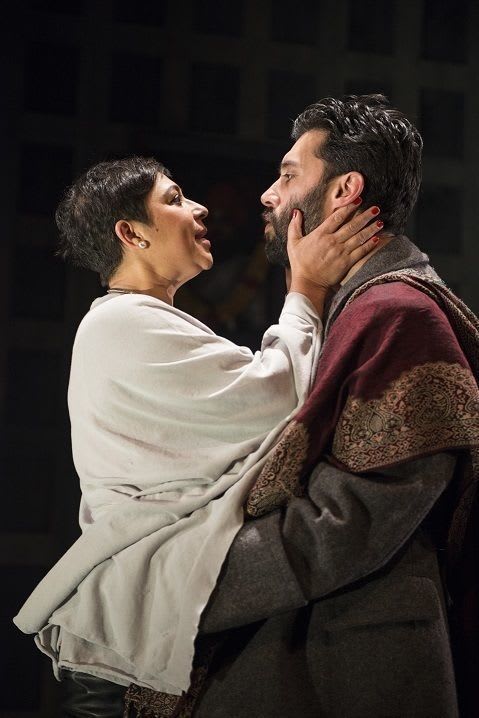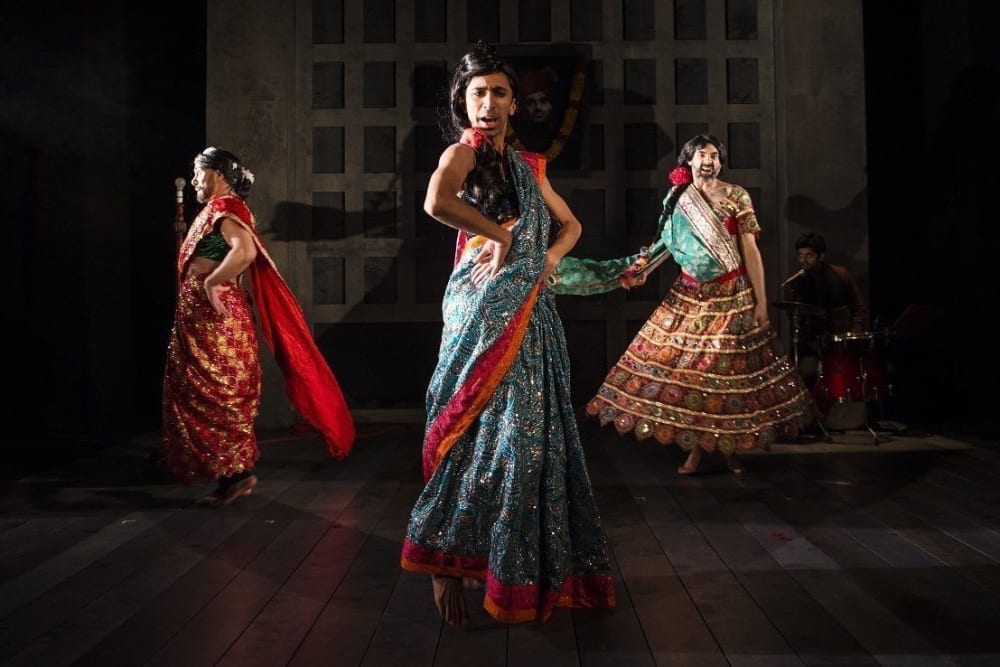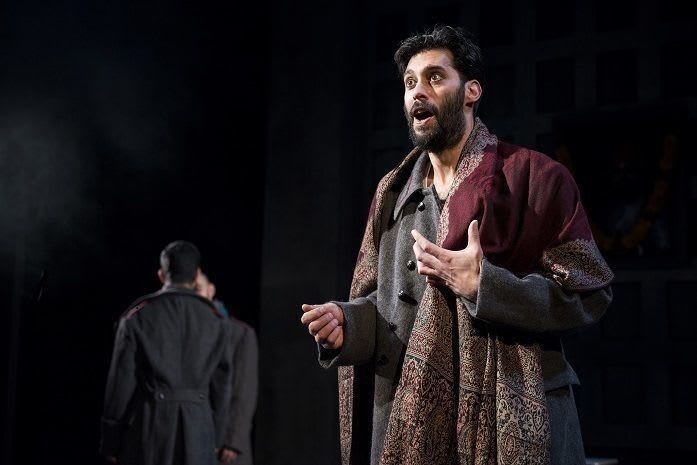 Touring as the first production under the auspices of Black Theatre Live, this is an ambitious rethinking of the Scottish play that aims to emphasise the themes of ambition and jealousy.
Shakespeare may perhaps have been honouring James I and VI in a play which whitewashes Banquo because he was thought to be the Stuarts' ancestor (in the Holinshed source, he is Macbeth's accomplice) but director Jatinder Verma doesn't see this as primarily a play about kingship.
This production sets the play among an extended British-Asian family of wealth and position, a world where the hierarchies and traditions of their Indian roots still reverberate but that provides a contemporary identification for audiences from the Asian community.
The dynastic drama can certainly be viewed in domestic dimensions but, since this is not a rewrite but a staging of Shakespeare's text, regal references and elements such as the play's battles, the camouflaged army and external English support for a reversal of regime change are difficult to combine with a domestic setting.
The intention may be to see things on two levels at the same time, but that is not easy. With rich royal robes, ceremonial sword and a turban of office, this leader is more like a Mughal emperor than a family head or a corporate captain—and indeed a straight transposition to that sort of setting would surely work smoothly. The complexity of what I think Verma is doing is confusing.
If however, you take the production moment by moment, and don't worry about reconciling the two worlds it is presenting simultaneously, it offers powerful theatricality and dramatic imagery often effective because of their simplicity: the fall of a cloth, the use of that standard lamp as something quite other, a cotton sheet that suddenly becomes more than a shadow screen.
Verma has the brilliant idea (so obvious now that he has done it) of playing the witches as Hijras, that third gender of transsexual, transgender and castrated males who for centuries have been an accepted community on the Indian subcontinent, a group who bring blessings and curses and tell fortunes and who here pronounce prophecies in their gaudy glittering saris.
With their girlish giggles, their campness is comic and gets laughs that relieve the darkness of almost everything else in this play, but at the same time they have a disorienting strangeness. (Shakespeare, of course, provides his own comic interlude in his drunken doorkeeper: here Shalini Peiris's housemaid, her bawdiness gaining some freshness from being delivered by a woman).
Verma also risks another moment of comedy to add impact to the savage slaughter that follows. These are elements that will work best with those who come fresh to the play. Be prepared for surprises: over familiarity may mean ingrained expectations are sharply contradicted.
The text throughout is delivered cleanly and clearly and, though the action moves rapidly, this plays longer than many recent stagings. Claudia Mayer's design provides a relatively formal background tat could be a boardroom or a grand salon hung with a portrait of the clan chief, changed when he does. It quickly adapts to provide other images.
A few pieces of domestic furniture that require rearrangement create a minor hiatus between some scenes but Paul Bull's sound design and Hassan Moyheddin's music, brilliantly played by Rax Timyr maintains the momentum. Indeed, Timyr's carefully timed underscoring of much of the action makes a major contribution to the success of the production.
Robert Mountford's Macbeth has a gentle authority that makes his ruthlessness the more shocking: the witches' predictions clearly put him off kilter. To add intensity to some of the soliloquies, he demands concentration by lowering volume. This misfired when I saw it (admittedly at the first performance in the venue, which may explain the misjudgement).
It may be appropriate in film or television to treat these as internal musing but in the theatre they are thoughts that the character shares directly with the audience they must come across with appropriate projection to reach them, even while creating a sense of intimacy.
It is an intriguing interpretation. There is no internalising of his reactions to Banquo's ghost, murdered on his instructions in the attempt to end his bloodline, when he appears at a banquet: all his guests would be aware of his involvement. This Macbeth is a man who recognised that these Hijra have tricked him and faces his fate with a calm resignation in a rethinking of the usual ending.
Shaheen Khan is a strong stage presence as Lady Macbeth and has a good grip on the verse but (when I saw it, on tour before its press night) had yet to make the thoughts seem her own rather than Shakespeare's, something that may change as the tour continues.
Mitesh Soni is a Banquo who seems unperturbed by his part of the witches' prophecy, Ralph Birtwell has little chance to make anything of Duncan before he is murdered, Sahlini Peiris a disoriented deserted Lady Macduff, Deven Modha gets some physical comedy as her son, as well as playing Banquo's son Fleance and the cynically role-playing rightful heir Malcolm while Umar Pasha is an impassioned Macduff when he hears of his family's slaughter.
Apart from the Macbeth's themselves, everyone is doubling: servants, murderers, soldiers and hangers on, including John Afzal, Birdwell and Modha as the Hijra witches.
Black Theatre Live is a new consortium supported by Arts Council England and formed by eight regional theatres committed to effecting change for British Asian and Minority Ethnic (BAME) touring theatre. Its members are Derby Theatre, Queens Hall (Hexham), the Lighthouse (Poole), Theatre Royal Bury St Edmunds, Theatre Royal Margate, Stratford Circus (London), Key Theatre (Peterborough) and it is led by Tara Arts.
This Macbeth begins a three-year programme of national touring to these and other venues working with emerging and established BAME companies.
Reviewer: Howard Loxton