Macbeth
William Shakespeare
Birmingham Repertory Theatre, Young Vic and HOME Manchester in association with Lucy Guerin Inc
Birmingham REP
–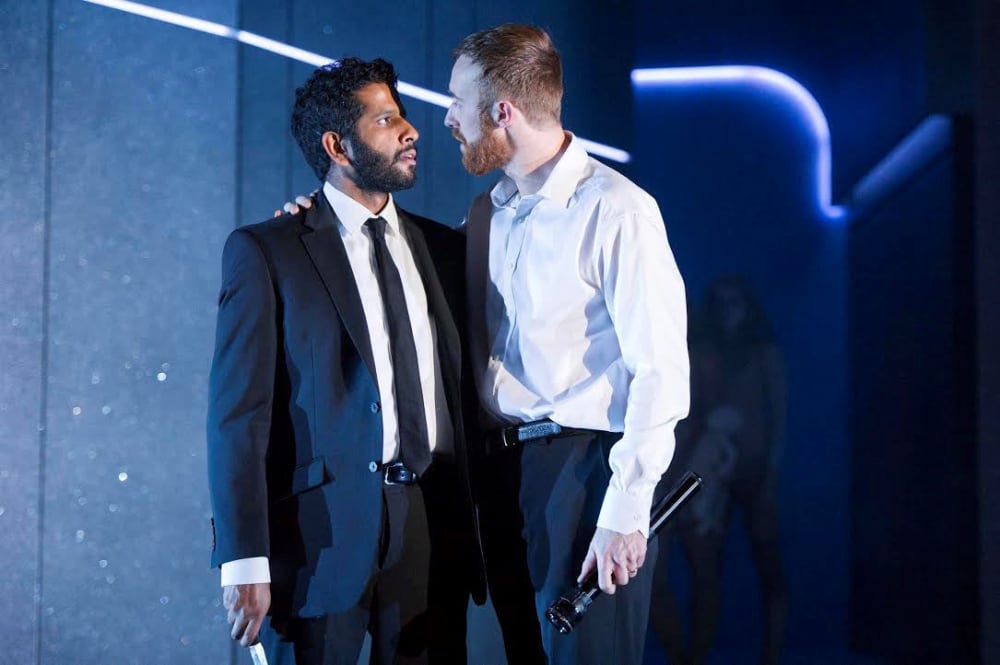 Dramatic, booming music assaults your ears as searing lights show soldiers beating up one of the enemy before the stage goes dark. When the lights come on again, the victim is about to be beheaded. It's a stunning beginning and shows that the themes of Macbeth—political murder, unchecked ambition and corrupting power—are just as relevant today as when Shakespeare wrote this captivating tragedy 400 years ago.
But the explosive start to Carrie Cracknell and Lucy Guerin's production isn't maintained throughout. The pair of directors say it's important to integrate their working methods across the media of theatre and dance, but this raises the question: does Shakespeare's work need to be accompanied by dance?
Some of those watching at Birmingham REP would say a resounding "no". That's because some of the dance sections slow down the action while others can prove baffling to anyone not well acquainted with the play.
Macbeth is one of Shakespeare's shortest plays yet important parts have had to be cut to accommodate the dance pieces. The most notable omission is the scene in which the porter complains about Macduff and Lennox knocking on the door after Macbeth has murdered Duncan; gone is his proclamation that "this place is too cold for hell" as well as his equivocation about the characteristics of drink.
In fact there's no humour at all in Cracknell and Guerin's Macbeth. Everything has a grey hue from the costumes to Lizzie Clachan's set, a long, often dark, clinical tunnel which reflects the monochrome depression of Macbeth's world.
From the moment the witches appear in skimpy leotards rather than resembling the traditional "secret, black and midnight hags", you know you're in for a different kind of evening.
John Heffernan and Anna Maxwell Martin give reasonable displays as the Macbeths. But I couldn't help thinking their performances could have improved if the directors had developed their characters more.
Heffernan admirably shows his evil side as the play progresses but is less successful as a reluctant hero who wants to put an end to the cycle of violence. Maxwell Martin's Lady Macbeth is understated, particularly in her transformation into a wicked schemer and her anger with her husband when he brings the daggers with him after killing Duncan.
The Macbeths are arguably the most ardent of all Shakespeare's lovers yet Heffernan and Maxwell Martin rarely show the bond that leads them to commit their heinous acts.
The rest of the cast give commendable presentations, none more so than Nicholas Burns. Here he is nothing like his most recognised role as the hapless, hopeless Martin in the ITV comedy Benidorm. He portrays Duncan as a gangland, Mafia-type boss in sharp suit and shades while his Macduff is completely different, a single-minded avenger bent on ridding the world of injustice.
The scene in which Macbeth meets his end at the hands of Macduff falls flat—which is surprising because it replicates the opening in terms of sound and lighting. Perhaps it appears unsatisfactory because we don't see Macbeth's demise in full, gory detail.
Purists will hate this version of Macbeth: they will say the rich language of a genius doesn't need drastic alteration. Others might welcome a fresh interpretation of a play that has had countless adaptations. My main reservation is that the acting appears to be compromised—although with choreographer Guerin an integral part of the creative team, dance was always going to be included.
Reviewer: Steve Orme